Freemasons, 'Rimmel'Makeup and Cocoa drinks all at a Manchester theatre in 1877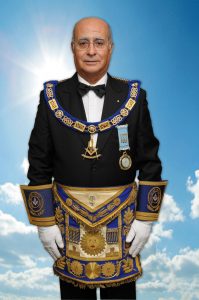 Freemasonary
In 1877 The 'De Trafford Club', which was the home of the East Lancashire Provincial Masonic Lodge put on their 21st annual Performance.  Luckily I discovered this programme at Manchester Central Library Archives+ when I was cataloging their theatre programmes and playbills. The 'De Trafford Club' was established in 1856 as is one of the earliest Provincial Masonic Lodges in the country.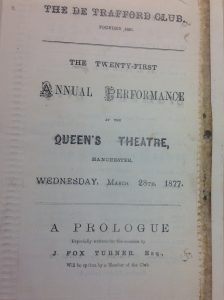 Ben Brierley
It was interesting to discover that on the 2nd page of the programme that Ben Brierley Esq. delivered the 'Ab O Th' Yate' address to the Prince of Wales.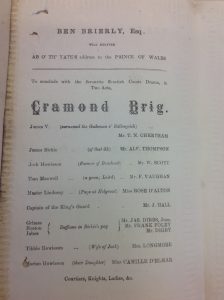 I also discovered that eventually a Masonic Lodge in Oldham was established in 1908 in his memory.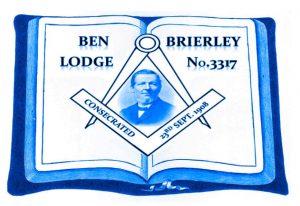 Ben Brierley, who was born in Failsworth was a prolific short story and sketch writer. He was famous for his 'Ab O Th' Yate'. He even toured America in 1884 with his 'Ab O Th' Yate' about America and London, etc., plus his pictures of Lancashires common life. Another of is famous sketches was 'A Summer Day in Daisy Nook ' which he wrote in 1859. If you go to Failsworth, Greater Manchester, you can visit Daisy Nook County Park, also you can see the interesting 2006 bronze statue of him by Denise Dutton outside the public library.  At one time you could have gone to 'The Ben Brierley Public House for a drink in Moston, Manchester but sadly it closed in 2011.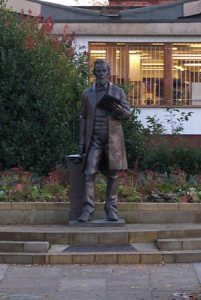 On the 2nd page of the programmes Ben Brierley gives his 'Ab O Th' Yate' address to the Princes of Wales which was followed by the famous Scottish Drama 'Crammond Brig'
.Plays and their actors
On page 3 there are two plays, the first is 'The Area Belle', a  one act play by William Brough, and the other is a domestic drama called 'The Chimney Corner' by Henry Thornton Craven complete with cast.
One of the actress's in two of the three plays was Camille D'Elmar, an American who came to England as a child and was famous for playing vain and girlish, mischievous, lighthearted, coquettish and gossipy comedy parts. Other re-known actors were Sidney Mortimer, James Dibbs, Mrs Longmore and Fanny Thorne.   Below is an obituary for Camille D'Elmar in 1902 which was in 'The New York Times' newspaper.
The Adverts
On the back page of the programme was advertisements for 'Epps Cocoa'. and 'Rimmel's Choice Perfumery.'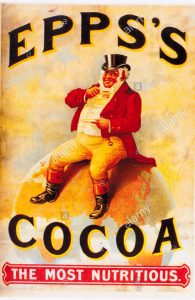 Epp's Cocoa was first sold from 1839 for the use of patients for whom tea and coffee were restricted. It was an instant cocoa powder, made by adding hot water or milk as it still is today. It's distinctive slogan was "grateful and comforting". The company remained successful and was bought by Rowntree of York in 1926 for £70,000. The Epps factory was closed in 1930.  Below is a picture of the Steam Cocoa Mills in Holland Street, London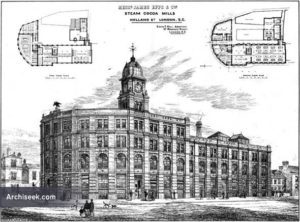 Finally the main and last advert on the back on the programme was for 'Rimmel's Chioce Perfumery.' complete with prices. I was surprised to discover that  the 'Houe of Rimmel' was established in 1834, by Eugene Rimmel and his father  who opened a perfumery in Regent Street, London  At that time perfumes were called vinegar and mascara was made with mercury also marketing meant a stand at a fair.  by 1890 Rimmel was known as the dictionary definition of mascara across the world.  Eugene Rimmel had pioneered hygiene products and cosmetics and turned beauty into art.