Manchester Connects to the 3 Novello's !

Clara Anastasia Novello – Opera Singer
In  August 1851 Clara Anastasia Novello, the famous acclaimed soprano, topped the bill when she appeared at The Theatre Royal in Manchester.. She was singing Italian opera and the theatre offered a book of the songs in Italian and English for sale.  She appeared with a very impressive cast of famous opera singers such as the tenor Sims Reeves  and the soprano Rebecca Isaacs
She had performed many times in Manchester , even singing opera in Manchester's second music festival in 1836.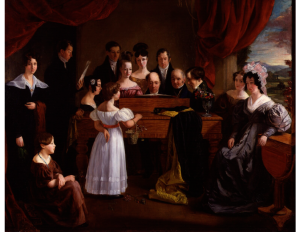 Clara was the fourth daughter of Vincent Novello, a musician and music publisher. Her brother Edward Petre Novello, was a famous artist who painted a portrait of her and the Novello family.  Charles Lamb, the famous poet wrote the poem 'To Clara N.' in 1834.
'The Gods have made me most unmusical,
With feelings that respond not to the call
Of stringed harp, or voice — obtuse and mute
To hautboy, sackbut, dulcimer, and flute;
King David's lyre, that made the madness flee
From Saul, had been but a jew's-harp to me:
Theorbos, violins, French horns, guitars,
Leave in my wounded ears inflicted scars;
I hate those trills, and shakes, and sounds that float
Upon the captive air; I know no note,
Nor ever shall, whatever folks may say,
Of the strange mysteries of Sol and Fa ;
I sit at oratorios like a fish,
Incapable of sound, and only wish
The thing was over. Yet do I admire,
O tuneful daughter of a tuneful sire,
Thy painful labours in a science, which
To your deserts I pray may make you rich
As much as you are loved, and add a grace
To the most musical Novello race.
Women lead men by the nose, some cynics say;
You draw them by the ear — a delicater way.'
On 22 October 1832, aged 14, she made her first public appearance, in a concert in Windsor. Later that year, in December she performed the soprano part in Beethoven's Solemn Mass  'Missa Solennis', which was a very great achievement for someone so young.  In 1833 her career blossomed as she performed her debut oratorio resulting in her career flourishing.  In 1839, she did her first oversea's tour to Dusseldorf and Berlin, and her final concert of that tour was in St. Petersburg.
In 1841 she started her Italian tour  in Padua, singing in Rossini's opera 'Semiramide'.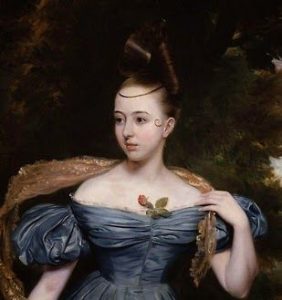 Undoubtedly a beauty as shown in this portrait by her brother Edward Petrie Novello. She found her true love in 1843 when she was arrested in Ferno, Italy due to the management company who she worked for double booking her appearance. Count Gigliucci, the Governor of Ferno, fell in love with his beautiful prisoner and they married as soon as she had completed her tour.  Finally retiring to be with him in Italy in 1861.  His family were against the marriage at first as they were quite a religious family and thought that marrying an opera singe was a bit beneath them.
In 1858 the final accolade to her fame was that a brigantine boat was built in Llanelli, Wales and named 'The Clara Novello' complete with a woman's figurehead at the bow.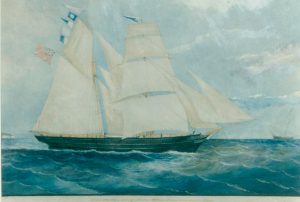 Clara Novello Davis
A Welsh miner and church choir master in Cardiff called Jacob Davis and his wife were so smitten by Clara Novello's operatic singing that when they had a daughter they named her Clara Novello Davis, little realising that she too would go on to be famous in her own right, as an international conductor and singing and voice teacher.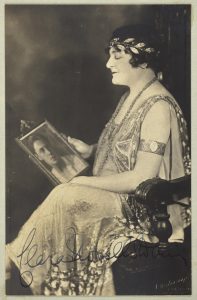 She learnt to play the Harmonium, which played to accompany several Cardiff Choirs when in 1883 she decided to set up the Royal Welsh Ladies Choir. In 1893 she took the choir to Chicago's World fair and they won a prize.  In 1894 Queen Victoria invited them to sing for her at Osborne House on the Isle of Wight; consequently they were then allowed to add the title 'Royal' to the choir's name.
The choir was so successful that they traveled all over the world.  They performed at several fundraisers for both World Wars.The French government  awarded her the Médaille de Mérite in 1937.
At one stage in her career she directed the World Famous Halle Orchestra of Manchester
In 1924 she established a voice-training school in New York, where she formed the Novello Davies Artist Choir to take part in concerts.  She published an explanatory book in 1928 entitled 'You can sing' which she dedicated to her son and in 1949 she published her autobiography 'The life I have loved'. 
The character "Madame Annie" in Rhys Davies' The Painted King is based on Clara Novello Davies.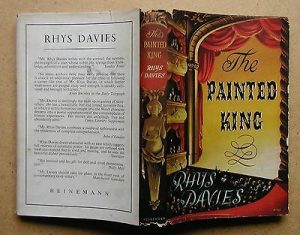 Ivor Novello Davis
David Ivor Davis was the child of Clara Novello Davis and her husband David Davisbut to the whole world he is simply known as Ivor Novello, songwriter, playwright, composer and actor. As a child his soprano voice won him a place at Magdalen Choir School in Oxford. Whilst he was there he began to write songs.  He was extremely handsome and reminiscent of Rudolph Valentino in his looks and sex appeal.
In 1913 he moved with his parents to live in a flat above The Strand Theatre, London. The theate was  revamped in 2005 and its name was changed to The Novello Theatre. Whilst living in this flat in 1914 he wrote the nostalgic World War One song 'Keep The Home Fires Burning'  this earned him a fortune and he was un-indated with requests to write scores for several musicals.  In 1916 he met his life long partner and lover Bobby Andrews.
After the  war he went on to star in two silent movies, both were directed by Alfred Hitchcock. He later progressed to appearing in talking movies as well as writing musicals.  His life was a total success until in 1944 he was sent to Wormwood Scrubs prison for eight weeks but in reality he served only four weeks. His crime was 'the misuse of petrol coupons' which was a serious offence in wartime Britain.  On his release he went to entertained the troops in both France and Belgium. It was thought that he was stopped from getting a knighthood because of his time in prison and his homosexuality.  He wrote a World War Two song  'We'll Gather Lilacs' which was later used in a musical.
In 1955 'the Ivor Novello Awards' were created by the British Academy of Composers and Songwriters, rewarding the talents of the best British songwriters and composers.
In 1925 he appeared in the silent movie ' The Rat' alongside Mae Marsh and Isabel Jeans. The film is based on the 1924 play of the same title written by Novello and Constance Collier, which was set in the Parisian criminal underworld. The film's sleazy settings and melodramatic story line was extremely popular with audience.
Amongst the lovely musicals he wrote were : Glamorous Night (1935);  Dancing Years (1939).Perchance to Dream (1945), King's Rhapsody (1949) and Gay's the Word (1951)
Many of Ivor Novello's musicals were performed in Manchester.  In 1955 an unusual version of 'The Dancing Years' was  performed on Ice. Besides the ice skaters performing the show, they had various singers off stage in the wings performing the musical numbers and the voices.