'Blind Tom' scores a hit in 1866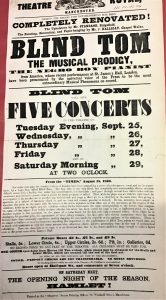 On 25 Sep 1866 the  newly renovated Theatre Royal, Manchester reopened  with the famous 'Blind Tom' Wiggins topping the bill with his concerts every day for a week.  His fame had preceded him. The crowds were eager to see this unusual type of performance.  Not only was he blind but he composed music, he played the piano and sang, a first time phenomenon to behold.
Below is the Times Newspaper review on him in the above playbill.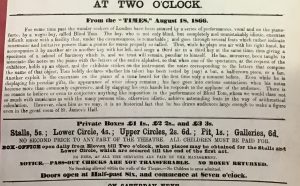 People wanted to see him perform his most remarkable talents where he played three pieces of music at the same time.  He played 'Fisher's Hornpipe' with one hand and 'Yankee Doodle' with the other and sang 'Dixie' all at the same time. He also played a piece with his back to the piano.  The people of Manchester were so lucky to have the unique opportunity to enjoy his talent.

Childhood for a child prodigy.
He was born to slaves in the Wiley Edward Jones Plantation in Georgia. A year after he was born he was sold along with his parents to a Columbus Georgia Lawyer General James Neil Bethune who was the editor of a newspaper.
Because of his blindness he couldn't do the normal work of the slaves and was left to his own devices. He explored on his own; one day he heard the piano being played in the plantation house by one of the General's daughters and he wanted to learn to play it. The General realised that Tom had real talent, because of this he was allowed to live in a room attached to the house where he had a piano installed for him to play. By the age of 5 he had written his first piece of music 'The Rain Storm'  Amongst his many piano pieces to be published were "Oliver Galop" and "Virginia Polka" which were published in 1860.
At the age of 12 he became the first African-American to give a command performance at the White House before President James Buchanan 
From the age of 8 General Bethune hired him out to the concert promoter Perry Oliver, who had him touring extensively in the US, performing as often as four times a day and earning both Oliver and Bethune up to $100,000 a year, which was an enormous sum of money; making Blind Tom undoubtedly the nineteenth century's most highly sought after pianist.
General Bethune's family made a fortune by exploiting the talents of Blind Tom. Perry Oliver marketed Tom as a "Barnum-style freak" advertising the transformation from animal to artist. In the media Tom was frequently compared to a bear, baboon, or mastiff but if Tom would have been alive today he would have classified as autistic. This would also account for his strange behaviour. As with a lot of autistic people he could recite speeches that he had previously heard only once, etc. He also referred to himself as a third person in a conversation; such as 'Tom is pleased to meet you'.
His talent at the age of 14
Supposedly, Tom's talents profited the Confederacy during the American Civil War. At the age of 14 he composed 'The Battle of Manassas'.
This became his most famous piece, It is the story of the Confederate Army's 1861 first victory in the Civil War  at the Battle of Bull Run.  Below is the song  sung by John Horton telling the story of the Battle.
Negative black press
Many Black owned newspapers which emerged after the emancipation of slaves after the American Civil War refused to celebrate the musician's talents, as they insisted that he only "served to reinforce negative stereotypes about African-American individuals" and that he had only been a source of profit for slave owners.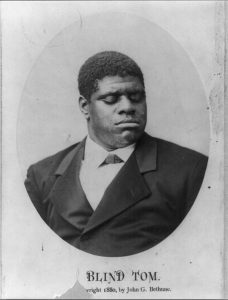 European Tour at 16 years of age
In 1866, at age 16, Tom was taken on a European concert tour by General Bethune, who collected testimonials about Tom's natural talents from composer-pianist Ignaz Moscheles and pianist-conductor Charles Hallé. These were printed in a booklet, "The Marvelous Musical Prodigy Blind Tom," and used it to bolster Tom's international reputation.  He went on to compose many more pieces of music.
The United Kingdom leg of his European tour comprised of performing in London, Scotland, Manchester, Birmingham, Newcastle, Bradford, Leeds, Dover, Derby, Accrington, Huddersfield and Sheffield and finally leaving to return to  America in June 1867.
The Ballad of Blind Tom
He made such a profound impact of the music world and black history that Elton John
He is also remembered by a play called 'HUSH: Composing Blind Tom Wiggins'.  In 1981 he was the subject of the film, 'Blind Tom: The Story of Thomas Bethune'. 
His death and final resting place.
He died in New Jersey at the age of 59 i on the 13th June 1908. Tom has two graves, one in Brooklyn, and the other in Columbus, Georgia. The Brooklyn grave was marked in 2002. The people of Columbus, Georgia, raised a commemorative headstone for him in 1976.   Following his death The New York Times headline read "BLIND TOM, PIANIST, DIES OF A STROKE — A CHILD ALL HIS LIFE.