Paganini hit Manchester by storm in 1832 !

Niccolò  Paganini
Manchester 'Theatre Royal' patrons were honoured in both 1832 and 1838 with the appearances and performances of this world class musician who's music is still played today.
Niccolò  Paganini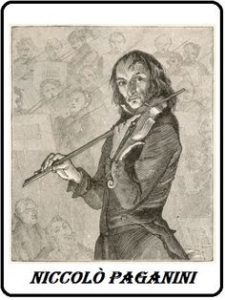 In January 1832 Manchester had the privilege of hosting the world famous Italian Niccolò Paganini as he was one of the opening concerts at the 1832 Manchester Music Festival. He was reknown as the versatile violinist, viola player, guitarist, and composer. This must have been an exciting time for Mancunians to have such a celebrity in their city. He performed 3 concerts at The Theatre Royal to full houses.  He returned in September 1833 to do his final and farewell concert for Manchester theatregoers before returning to Europe to continue his concerts.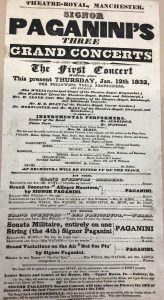 The reporter from the Guardian newspaper was lost for words to explain how wonderful the concert was. Not only was Paginni the star of the show but he had a full orchestra with him on the stage with Mrs St Albin accompanying him on the piano. The singers were Miss Wells, Miss Watson, Mrs H Lloyd, Mr H B Hunt, Mr Horncastle and Mr Hart. Paganni played his own compositions to the rapturous applause of the audiences.  At the end of his tour of the United Kingdom in 1834 Miss Watson, one of his singers, then aged only 16 was coerced by Paginini to follow him as he had intended to marry her in Paris.  Her father enlisted the British and French authorities to assist him return her to the family which they did successfully.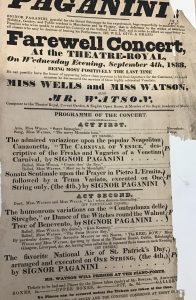 Paganini travelled to Manchester in a grand black carriage with four black horses which he had hired in London, the leader of the orchestra was riding behind him on a horse with his servant and a porter as outriders. This  made his arrival with his entourage rather spectacular. On his tour of the North of England he did a concert in Blackburn where he stayed at the 'Joiner's Arms' at 29 Northgate.  It was renamed 'The Paganini Inn'  after his visit. Another place he performed at was Stockton in the North East of England which shows that he didn't only play his music in the big cities and towns but in more unusual venues.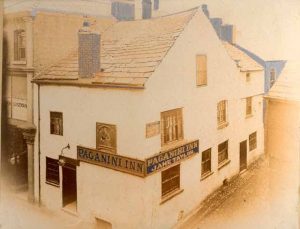 Pagainini's tour of the United  Kingdom lasted for six years, he was so popular at  all the theatres he played in, earning a considerable fortune At most of his concerts the seats were priced at double their normal cost.  
According to press reports 'The flexibility of his fingers was most astonishing; even to the throwing back of his thumb flat upon the back of his left hand also his left shoulder was considerably more depressed than his right. Presumably this is from playing the violin. He was known as 'The Devil's Violinst'  perhaps because he was a flamboyant showman who used trick effects such as severing one or two violin strings and continuing the piece on the remaining strings gaining gasps of delight from audiences all over Europe.  In 2013 there was a film entitled ' The Devil's Violinist ' was made starring David Garrett as Paganini.
Paganini was a child prodigy as at the age of five he started playing the mandolin before taking up the violin at the age of seven. He gave his first public performance at eleven years old in Genoa in Italy. At the age of just 15 he started playing solo tours. He was one of the first solo violinists to perform publicly without sheet music, choosing instead to memorise everything. Sadly fame went to his head and at age 15 he started to drink; later on in life he became a heavy gambler and serial womaniser. He died in 1840 at the age of 57 from cancer of the larynx whilst in staying in Nice, France.