Johann Strauss the 1st including a tribute band to him !!

Johann Strauss the 1st
In 1822 he  successfully completed his bookbinder apprenticeship, during this apprenticeship he studied music with Johann Polischansky and eventually managed to secure a place in a local orchestra, headed by Michael Pamer. Strauss then left the orchestra to join a popular string quartet known as the Lanner Quartet.  Below is an example of one of his compositions.
They played Viennese Waltzes and rustic German dances. In 1825 he decided to form his own band and began to write his own music.He was well know as a composer of Viennese waltzes. In 1834 he was appointed bandmaster to the 1st Vienna Militia Regiment. The following year he was made Director of the Imperial Court Balls  Although he composed around 300 works, he is chiefly remembered for the lovely waltz 'Loreley-Rhein-Klänge' and for the 'Radetzky March' which honours the Commander-in-Chief of the Imperial Austrian army.
He died in Vienna in 1849 at the age of 45 from scarlet fever, leaving both a wife, a mistress and 14 children.
Johann Strauss and Queen Victoria.
His tour of England began with a performance at the opening state ball at Buckingham Palace on the occasion of the Queen's accession to the throne in June 1838.  He played 'Homage to Queen Victoria' and concluded with God Save the Queen. The Times reported that Strauss's new waltz was much admired by the future queen, because of this Johann Strauss made sure he included this waltz in all his future performances following the coronation, both at the Palace and elsewhere on tour.
In the Coronation Year of 1838, Queen Victoria gave a series of balls at Buckingham Palace, nine of which featured Johann Strauss and his orchestra. Queen Victoria was so enthralled with Johann Strauss and his music, that Johann Strauss and his orchestra became the most popular performers of that period.  Everyone wanted to hear them play.
His Appearances in Manchester
In August 1838 the Austrian born Johann Strauss and his band as listed on the playbill and not his orchestra gave a concert at The Theatre Royal. This was this 2nd concert in Manchester, his first was given in The Corn Exchange in Hanging Ditch.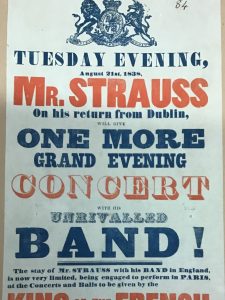 The Corn Exchange was a brand new Venue which was built in 1837 by the architect Richard Lane who was also responsible for the Gentlemen's Concert Hall on Peter St. also The Friends Meeting House on Mount St, The beautiful interior of the New Corn Exchange building could be rented out in the evenings for concerts and entertainment providing extra revenue for the Corn Exchange shareholders. Beside concerts, political meetings took place there too, including a renowned Anti-Corn Law rally. For a while it was even used as a Sunday chapel for a fee of £100 a year to use the building. .  Below is a picture of what the original Corn Exchange on Hanging Ditch, Manchester.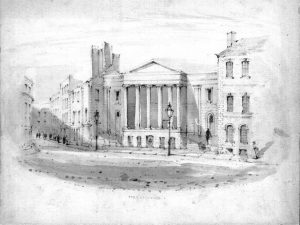 His 2nd concert was at The Theatre Royal, Manchester on 21st of August 1838.  He gave his final concert in Manchester on the 25th August 1838. Mancunians  must have had a wonderful time listening to his compositions 'La Philipmele', 'Les Bouquett' amongst others. The price of the tickets were 1 shilling in the Gallery, 2 shillings in the Pitt, 3 shillings in the upper boxes and 4 shillings in the Lower Dress Boxes.  I think they got a bargain by today's costs.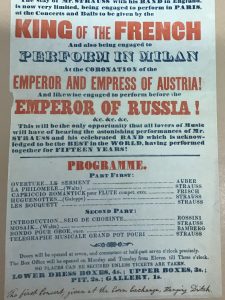 It was stated that he could now command fees of £200 plus for a performance as he was in such high demand.
This clip shows how elegant the Viennese Waltzes were performed at the balls created by both of the Strauss composers
The tour
He began a six-week tour of England, Scotland and Ireland in July 1838. In all he and his band would perform in thirty-one different towns and cities, making return visits by popular demand to several of them.
On many days they gave three performances in three different venues: matinee, late afternoon, and evening.  The constant travel was made much easier by advancement in forms of transport.
The weather was very bad especially in Scotland where it was cold and wet. His coaches had trouble making their way through the mud, and several members of the orchestra came down with colds or worse. A local doctor prescribed a concoction of claret, nutmeg and ginger, 'hot enough to wake the dead' yet they still performed. His orchestra were now homesick as they had been on tour in England for a year. The orchestra were relieved when the tour ended almost eight months after arriving in England and fourteen months after leaving Vienna.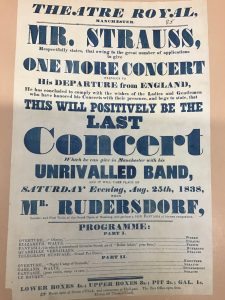 The culmination of Johann Strauss and his orchestra tour of the United Kingdom was after touring Ireland, they did their final concert at The Theatre Royal, Manchester before going to Paris to give a performance to the King of France then onto Milan and finally to perform for the Emperor of Russia. This was an amazing and exhausting tour schedule for those days.
London Remembers him
There is a black plaque outside 1 Leicester Street, Soho, which in 1838 was the Hotel du Commerce.  Johann Strauss the 1st had lodged here on his first visit to England in April 1838.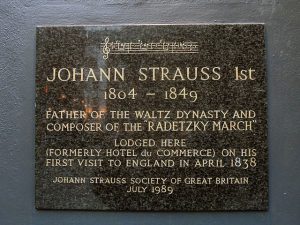 Tribute Strauss Band 1839
A year after Strauss tour of England, Herr Schallehn appeared at The Theatre Royal with his Strauss Band. Herr Schallehn was a German ex-military bandsman who had once played in Johann Strauss Band and realised that he too could earn a good living by playing Strauss's music under the title ' A Select Strauss Band'. They played mainly Strauss music.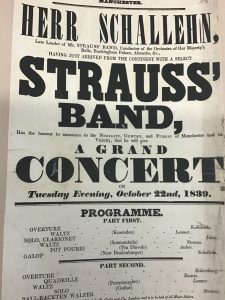 André Rieu – The modern Tribute Orchestra to the Strauss Family
Today the whole Strauss family is celebrated by the wonderful Andre Rieu Strauss Orchestra. He has brought the Strauss family music back into the limelight as his orchestra creates the most moving and enjoyable and amazing music as seen above.  If you have never seen them live then do so as this is a wonderful experience.