Comedy wins the day at The Manchester Hippodrome Theatre
Theatrical Families in one play in 1924
In 1924 Roland Pertwee's play 'Evening Dress Indisposable' was staged at the Hippodrome. Roland was the father of the famous actor Jon Pertwee who's most notable roles were Werzel Gummidge and the 3rd Dr Who. As Dr Who his famously adversaries were the Daleks. He was also the father of Michael Petwee, another famous playwright and actor. He was also the 2nd cousin to actor Bill Pertwee, another comedy actor whose most famously remembered role was the Chief ARP Warden Hodges in Dad's Army,   Roland's grandson Sean Pertwee is also an accomplished actor.  That is a truly talented theatrical family.
Evening Dress Indisposable
This play was listed as a nonsensical one act play. It starred mother and daughter Violet and Prudence Vanburgh.  Violet also had a sister Irene Vanburgh who was equally as famous. There is a blue plaque near where they grew up in the vicarage at Heavitree in Exeter, their father was the Vicar in Heavitree.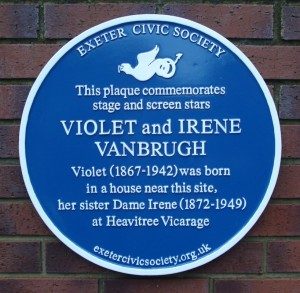 .  Violet and Irene also had a famous brother  Sir Kenneth Barnes, who was at one time the director of the  Royal Academy of Dramatic Art Another theatrical family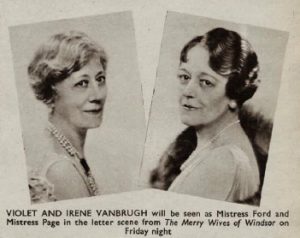 Famous stars who shone brightly
Starring in many variety shows was Bransby Williams who was a British actor, comedian and monologist.  Preciously he had the privilege to tour alongside his son in the play 'Hamlet'. He regularly appeared in panto, especially in Aladdin as Abanazar.  Later on he appeared in over 10 films.  .
Robb Wilton
Robb Wilton topped the bill in several variety show at the Manchester Hippodrome. He was a Liverpool born comedian and comic actor.  His most popular catchphrase was "The day war broke out…". Wilton was a member of  the fraternity of The Grand Order of Water Rats and was crowned "King Rat" in 1947. He was the great-uncle of actor Robin Askwith of the 'Confessions of a Window Cleaner' and other films.
Hetty King
Hetty King, the male impersonator was also on many of the variety shows at the Hippodrome. Her career spanned both World Wars when she performed in the uniform of either a soldier or a sailor. In the First World War her act included  "Songs the soldiers sing" in which she sang some of the less ribald songs invented by soldiers in the trenches.
Singers
Another interesting act to appear was Harry Claff who was a baritone singer, he had sang previously with the D'Oly Carte Opera Company as well as starring in many musicals. He also did a double act with his wife, Winnie Wager, they were billed as 'Harry Claff and Lady' 'His most famous act was when he played 'The White Knight, wearing a shining silver fish-scale armour which he was said to be proud to wear  when he was chosen to lead the singing of the National Anthem at the first Royal Command Performance in 1912. Not only was he was a member of the Grand Order of Water Rats but also a prominent Freemason of 3 lodges including the Liverpool Dramatic Lodge (1609).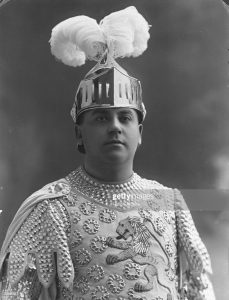 Hedges & Fields
Hedges and Fields were an American double act that played the piano and sang.. Elven Hedges originally started out as a double act with his brother Freddie.  Their double act was short lived as Elven went to London and opened a nightclub, it was meant to be a members only night club but was raided by the police for letting non-members in and closed down.  Elven was then deported to France, as his wife Blanche was French. In 1931 he died in France.
Comedians
On another variety show they had a wonderful cast which consisted of both 'Little Titch' and 'Sandy Powell'  plus The O'Gorman Brothers and The Haines English Ballet Company
Little Tich.
Little Titch was a music hall comedian and dancer.  His name was due to his height being only 4′ 6″.  His famous big boot dance was sensational.  He was another comedian of that era that regularly  appeared in pantomimes.  Interestingly at the beginning of his career he appeared on stage 'blackfaced'.
Sandy Powell
Sandy Powell in the early days of his career was on the same bill as Little Titch who interestingly was  nearing the end of his career.
Sandy Powell's catchphrase "Can you hear me, mother? " became universal. In the 1930's on certain occasions he performed with Gracie Fields on several records. In 1935 he wrote and appeared in the film 'Can you hear me, mother?"  He again was another comedian who thrived in pantomime.
The O'Gorman Brothers were the sons of Joe O'Gorman who had been a singer and dancer.  He performed in a double act with Joe Tennyson as '"The Two Irish Gentlemen".  His two sons Joseph and David appeared on stage as 'The O'Gorman Brothers' were a comedy and dance double act .
On the same bill was 'The Haines English Ballet' which was founded in Manchester.  This ballet company's main claim to fame was that Harold Turner, principal ballet dancer, teacher, and ballet master learnt his craft with this company.
 Un – Politically correct  Theatre Acts at the Manchester Hippodrome
May Henderson
May Henderson was an English music hall  comedienne, billed as 'The Dusky Queen' or 'The Dusky Comedy Queen' topped  a variety show . She was the daughter of Billy Henderson of the Henderson & Stanley Quartette. She performed blackfaced on the music-hall stage as late as 1927.  She started her career as a child with her parents in their variety act.  In the minstrel show, there were only men on stage, but in the music-hall theatre shows, after 1890, women or even children could be "negro imitators" or "negro delineators" as they known by both these terms.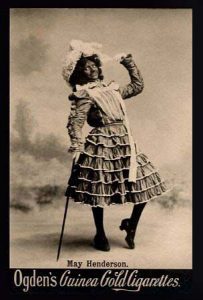 Frederick Sylvester and his Midgets
Frederick Sylvester and his Midgets were an American acrobatic act. They dressed as schoolboys to do their tricks. Their act  was very precisely choreographed as well as a clever acrobatic routine as you can see from the film clip below.