Aladdin lands at the Hulme Hippodrome 1958

Manchester Hulme Hippodrome

On 7th October 1901 the Grand Junction Theatre and Floral Hall Music Hall opened in Hulme. It was just under two miles from Manchester city centre, four years late  In 1905 its name was changed to The Hulme Hippodrome.
It was said to be as one of Manchester's finest theatres with its gilded decorations, velvet seats and huge auditorium. Tunnels are believed to have been built from the theatre to the nearby Junction public house and into the city centre for performers to use after their performances . It's a Grade 2 listed building which sadly is now derelict and in need of some tender loving care.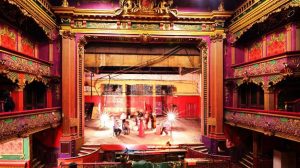 Early artists to appear in this Music Hall
Harry Houdini topped the bill in 1909 and one year later Stan Laurel made his professional debut as a member of the Fred Karno troupe.  The Tiller Girls dance troupe company which was founded in Manchester by John Tiller, appeared on stage there in 1912. Two other top headliners who appeared in this theatre were Gracie Fields and George Formby.
In the 1930's and 40's saw the  theatre struggle but it was kept in existence by the BBC  to record some of their radio shows.  In the 1950's the theatre once again was used for many variety shows.  It was reported that thanks to Dorothy Squires and Billy Dainty paying for part of its refurbishment the theatre reopened once more. .
On a variety show in August 1955, Jo-Jo the 'vanishing' kangaroo escaped from the Hippodrome during the illusionist, 'The Great Levante' act which included making Jo-Jo disappear on stage, he did actually disappear  in reality, not the way the illusionst intended. Jo-Jo was six months old and two feet tall. Somtime later he was found hopping along Cornbrook Street, Old Trafford, Manchester He was captured by officers and held in a city police cell until he could be bailed out by the magician.  Was this a good publicity stunt or not, we'll never know.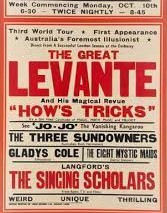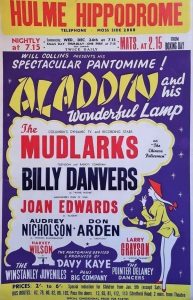 Billy Danvers -Wishee Washee
In 1890 Billy Danvers made his debut on the music hall stage at the age of four in Newcastle upon Tyne alongside his father James Danvers and Little Tich.  His middle name was 'Mikado' , the  reason for this was that his father was a Bass Baritone singer with the D'Oyly Carte opera company and his favourite operetta was 'The mikado' in where he starred as the character  'Pooh-Bah'.
From then on Billy Danvers went onto become a comedian, even appearing in the Royal Variety Show in 1948. He appeared in most of Manchester's theatres in Pantomime.  In 1958 he shared top billing with the Mudlarks in the pantomime 'Aladdin'. .
The Mudlarks – just for fun
In the 1950's and early 1960's the Mudlarks were a top line singing group who had many hits.  The BBC radio and Television presenter David Jacobs arranged for them to appear on the 'Six Five Special' television show where they signed a  recording contract with EMI records.  Some of their hit songs  included 'Lollipop', 'My grandfather;s clock' and the skiffle song 'I've been everywhere'
Larry Grayson – Widow Twanky.
In 1937 Larry Grayson left school at the age of 14 and began working professionally as a supporting drag act on the comedy club circuit.  The next 30 years he travelled the country touring in many male revues and drag shows, as well as in variety shows at venues including working men's clubs, regional theatres and the Metropolitan Theatre in London.
He initially used the stage name Billy Breen, but changed it to Larry Grayson in the 1950's on the advice of his agent who felt the name Larry would be more memorable and go better with the surname Grayson.
He didn't really achieve fame until the 1970's. His camp stand-up comedy act didn't really appeal to the BBC bosses until then. His act consisted mainly of anecdotes about a cast of imaginary friends; I'm sure you'll remember some of these names: Everard, Apricot Lil, who worked in the jam factory; Slack Alice; Sterilised Stan the milkman,  Peek-a-boo Pete, the window cleaner with his dirty chamois and Pop-It-In Pete, the postman.
His catchphrase "Shut that door!" came about when appearing in a  theatre in Redcar, someone left a door open and there was a terrible draught.  Larry was a master at the raised eyebrow, the beautifully-timed pause, the camp gesture, and the feigned look of shock, which almost accused his audiences of being ­responsible for his risque innuendoes.
The part of Widow Twankey must have a treat for him to play.
His popularity peaked when he replaced Bruce Forsyth as host of The Generation Game in 1978. This show had over 25 million viewers.
A museum in his home town of Nuneaton displays his life and work as well as memorial to honour him.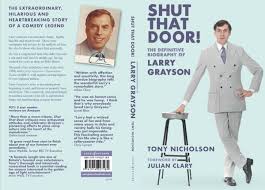 Don Arden – Abanazar
Born into a Jewish family in Cheetham Hill, Manchester, Don Arden began his show business career when he was just 13 years old as a singer and stand-up comic after briefly attending the Royal College of Music, Manchester.  In 1944, he changed his name from Harry Levy to Don Arden. After being demobbed from the British Army at the end of World War II, Arden returned to civilian life to continue his show business career until 1953.
He performed in variety shows throughout the UK.  He impersonated singers such as Enrico Caruso as well as film actors known for portraying gangster roles, such as Edward G. Robinson and George Raft. On weekends, Yiddish-speaking Arden impressed Jewish audiences with his Al Jolson routine. One of his record releases was his version of "Blue Suede Shoes" on the Embassy label, on which he tried to impersonate Elvis.
In 1954, he became a showbiz agent after realising it would be more profitable, but still carried on with his stage work for a few more years. He founded the 'Jet Record Label'  In 1960 he signed up American rock 'n' roller artiste Gene Vincent to his agency. Gene Vincent  was an alcoholic and reportedly pulled a knife on his then manager and had to change managers quickly.  In the early 1960's, he managed singer Elkie Brooks at the start of her career but this was short lived.
During 1964, Arden moved into beat group pop management with The Nashville Teens, who had chart hits with "Tobacco Road", "Google Eye" and "Find My Way Back Home". In 1965 he became manager of 'The Small Faces'.  Another famous group that he managed was 'The Electric Light Orchestra'.  In 1979, one of Arden's successes, Black Sabbath, sacked their vocalist Ozzy Osbourne. His daughter Sharon entered into a relationship with Osbourne, and took over his management from her father causing a very long term rift between father and daughter which lasted for well over 20 years before they made peace with one another when he became ill.   
Surprisingly the character of Abanazer in this pantomime suited his character down to a tee. As when he was getting older he enjoyed being known as the self-styled 'Al Capone of Pop'.
Davy Kaye – producer and creator of the pantomime.
Davy Kaye was a comedian, actor and producer of shows. He was only 4'11" tall and during World War II he was turned down by the army for being too short so he spent those years entertaining troops throughout the country. He appeared regularly on such shows as Midday Music Hall and Variety Bandbox.
Following the war he decided to get an theatrical agent to represent him.  He chose the legendary Joe Collins, father of Joan and Jackie Collins.
He played Benny Southstreet in the original 1953 London production of Guys and Dolls at the London Coliseum, and played five different characters in the 1961 Wolf Mankowitz musical Belle (based on the case of Dr Crippen) at the Strand Theatre.  as well as appeared in over 15 films. 
From 1954 to 1968 he presented a new show each month at London's Embassy Club as well as being the resident late night comedian.