Brush up your Shakespeare 1934 style !!

Shakespeare at the Hippodrome 1934 style.
In 1934 Sir Oswald Stoll put on a spectacular season of Shakespeare plays at the Manchester Hippodrome on Oxford St.  Amongst the plays staged were Julius Caesar, The Merchant of Venice , Henry V, Twelfth Night, The Merry Wives of Windsor, 'The Tempest' and 'As you Like It'.
I love the fact that in his plays there are so many songs that are still being performed today by a vast array of people 'It was a lover and his lass' is one of his famous songs which you can hear in the following clip.
As most people know William Shakespeare was also known as 'The Bard of Avon'   He was a very prolific playwright as well as a poet.  He wrote over 39 plays, 154 sonnets, also two long narrative poems in a period of just 24 years.  Such talent!! His first play was 'Two Gentlemen of Verona' and ending with 'Noble Kingsmen'. One of his most famous sonnets was No 18 which is read below.
Shakespeare died 3 years after writing his last play and is buried in the chancel of the Holy Trinity Church, Stratford upon Avon. Shakespeare had his  epitaph carved into the stone slab covering his grave includes a curse against moving his bones, which was carefully avoided during restoration of the church in 2008.
Today everybody still loves and appreciates these plays which  have withstood the passage of time, over 400 years.  Besides being performed on the stage, they have been made in to movies, musicals and transformed into modern day productions.
The Actors
Some of the artists appearing in the Shakespeare season of plays at the Manchester Hippodrome on Oxford St. were father and son Franklin and Valentine Dyall, Jessica Tandy, Sir Godfrey Tearle, Maria Ney, Basil Gill, Edgar Owen, Peggy Church and John Sullivan. The plays were produced by Stanley Bell, who had progressed from being  stage manager to becoming a stage producer after many years of hard work.
Valentine Dyall
Valentine Dyall was a character actor with an extremely distinctive voice which helped his career. Some people thought he was Britain's answer to America's 'Vincent Price'. His most famous radio role was as "The Man In Black", back in the late 1940's. He is also famously remembered for his radio appearances in "The Hitch Hiker's Guide To The Galaxy" in the 1980's  in which he played the part of 'Gargravarrhe'. He also appeared in episodes of  'Blake Seven';  'Black Adder' and 'Dr Who'  besides acting in over 60 films.
Franklyn Dyall
Valentine Dyall's father was Franklyn Dyall who was born in Liverpool. His father Charles Dyall, was the first curator of the Walker Art Gallery in Liverpool when it opened in 1871.
Not only was Franklin an accredited actor but he also went on to produce and direct many plays. He appeared in 26 films between 1916 and 1948, as well as being the eleventh actor to portray Captain Hook in Peter Pan on the stage.
Jessica Tandy
Jessica Tandy's career started on the stage in London in the 1930's at the tender age of 18 when she starred in many Shakespearean plays , opposite such iconic actors as Sir Laurence Olivier and Sir John Gielgud before moving to America in the 1940's to further her career.  In America she was the first actress to play Blanche Dubois in Tennessee Williams's play 'A Streetcar Named Desire' on Broadway in 1947. In her long career of over 6 decades she  appeared in over 100 stage productions and had more than 60 roles in film and Television. Below is a picture of her and her husband Hume Cronyn in a play in America.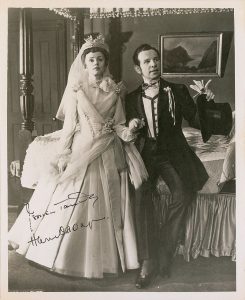 Sir Godfrey Tearle
The Shakeseparean actor Sir Godfrey Tearle came from a theatrical family, Born in New York City and brought up in Britain, he was the son of British actor/manager George Osmond Tearle (1852–1901) and American actress Marianne "Minnie" Conway (1852-1896), the brother of actor Malcolm Tearle, and the half-brother of silent film star Conway Tearle. His maternal grandmother was Sarah Crocker Conway.  One of the films that he appeared in was 'The 39 Steps' alongside Robert Donat, which coincidentally was the film shown on the opening night of the Gaumont Cinema which replaced the Hippodrome when it closed in 1934.
Maria Ney
Maria Ney was a character actress who loved appearing in Shakespearean plays.  She later went to become a character actress whose career spanned over 5 decades. In the 1930's she appeared in 11 films including The Wandering Jew, Scrooge (1935), Brief Ecstasy (1937), Jamaica Inn (1939), and A People Eternal (1939). In 1951 she appeared in the film 'The Lavender Hill Mob' great actors such as Alec Guinness and Stanley Holloway and featuring Sid James and Alfie Bass. ,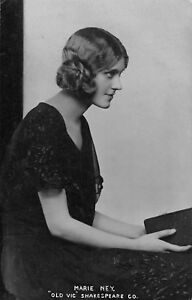 Edgar Owen
Edgar Owen, who two years later appeared as Ben Jonson in the Film 'The Immortal Gentleman', which was a great success but was an interesting concept of the early seventeenth century William Shakespeare, Ben Jonson and Michael Drayton who met in a Southwark tavern and begin discussing the other customers who remind them of characters
Basil Gill
Basil Gill also appeared in the film 'The Immortal Gentleman' with Edgar Owen. His first stage appearance was in Bury, Lancashire in 1897. He had his chance to appear in Shakespeare's plays when he joined Sir Herbert Beerbohm Tree's company in 1903.  He appeared in 35 films during his career. As well as being a Shakespearean actor, he was regarded as a matinée idol and also played romantic parts in modern plays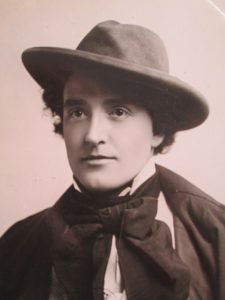 For anyone who is not familiar with the works of Shakespeare and would like a light-hearted take of his works the tongue in cheek song below will brighten your day