The Library Theatre 1947 to 1963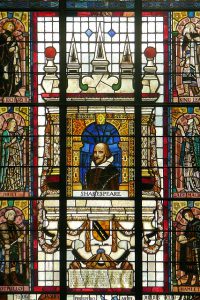 As you entered Shakespeare Hall which is the foyer of the Manchester Central Library to attend a play, a  musical or  other type of entertainment put on at Manchester's Library Theatre, you can look in total awe at the wonderful windows such as the one below.
This very special theatre was built in the basement of Manchester's wonderful Central Library.  It wasn't actually built as a theatre but as a lecture theatre but very quickly discovered its true vocation  in life.  It was a very intimate theatre  which held only 312 seats.
Above is the wonderful rendition of 'Dirty Old Town by Ewen MacColl, who was born in Salford; he appeared in 1947 in a play he had written 'Operation Olive Branch' and was directed by Joan Littlewood.  An interesting fact was that his real name was James Henry Miller.  In the 1940's several budding actors appeared there and went on to gain fame. Amongst them was Alfie Bass,  Alfred Burke, Eric Messiter who devised the Radio 4 programme 'Just a Minute' and Tony Britton. In interesting little fact about him is that he is the father of Fern Britton, surprise, surprise!!
This playbill for 'Queen Elizabeth' (unfortunately is a little faded) due to its age, was timed to celebrate the Queen's Coronation in 1953.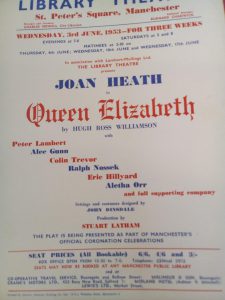 In the 1950's Diana Cilento, , Jeremy Brett, Frank Windsor (Z Cars),  appeared in Rep. also two of Coronation Street's all time favourites appeared, Daphne Oxenford, Eileen Derbyshire and Jean Alexander.  David Scase both acted and directed as did  Sir Peter Hall.  What an array of talent!!
In the 1962 the play 'Fairytales of New York' was brought to life at the Library theatre and the fact that it is sung by Kirsty MacColl, (daughter of Ewan MacColl) and the Pogues ties it in nicely to our 'Manchester'
John Noakes of 'Blue Peter' fame appeared in Shakespeare's  'Much Ado About Nothing' along side Colin Welland and Ken Farrington.  Patrick Stewart of 'Star Trek' fame appeared in 'Billy Liar', very bizarre!!