1948 sees the Palace Theatre say 'Thanks for the memory!'

Thanks for the Memory
The title of this show was a master stroke for Donald Ross's production show as it was pure nostagia. It starred a vast array of veteran theatre entertainers who the audiences held in their hearts with great fondness.  It was a revival of music hall entertainment which played to capacity audiences during its touring years. Achieving such a following that in the 1948 the show was staged in The Royal Variety Show featuring alongside Julie Andrews and Danny Kaye.
Theatre Impresario and producer Donald Ross cleverly amassed an interesting cast of "old timers" for this unique show. The stars of the shows were Gertie Gitana, Billy Danvers, Randolph Sutton, Nellie Wallace, Ella Shields, Talbot O' Farrell, G H Elliott and The Six Silver Belles with Terry Doogan.
Despite its nostalgic title the show was a fast-moving production featuring many younger supporting artists, the old stars were mostly required to go on stage, perform their acts as quickly as possible and get of the stage quickly before all appearing together in a glittering finale. One of the reason for the show's success was an extraordinary chemistry that sparked between the older performers, some of whom had been friends for decades.  It enabled the fading stars to regain their lustre and bask in the limelight for one last time  All of the seven stars were on a straight salary of £100 a week which in today's money is about £3,500. That would provide them with a nice pension pot to end their careers.
The title of the show "Thanks for the Memory"  was the title of a popular song composed by Ralph Rainger with lyrics by Leo Robin  It was introduced in the 1938 film 'The Big Broadcast of 1938' by Bob Hope and Shirley Ross.
Donald Ross
As a young boy he joined 'Papa Cragg's' Gentlemen Acrobats, leaving to tour as a solo act once he had learned to dance.  In 1926 he starred alongside the famous music hall singer Gertie Gitana in the musical 'Dear Louise'. Despite the 15-year age gap they were married in 1927.  Gertie always called Don 'Bill' or 'Billy' because of his role in the show where they first met.
In the early 1930's he became Gertie's manager, he very successfully teamed her up with G.H. Elliott and a very young Ted Ray in a successful revue called 'George, Gertie and Ted' which toured the UK for four and a half years.
In 1942 he hit on the idea of bringing striptease to the British stage with his production of 'Eve Started It!'  It was described on posters as a frisky frolic with Eight Hotsy Totsy Girls!'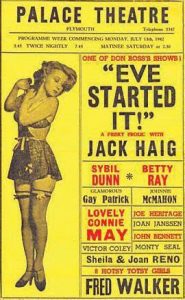 After his wife died, he got together with With Ray Mackender and Gerry Glover to establish the British Music Hall Society in 1963 and became its first chairman.
His career culminated in 1968 when he was invited by the Cunard Cruise Liner Company to produce the cabaret and act as master of ceremony on the new ocean liner 'Queen Elizabeth 2'.  A great finale to a wonderful career.
Gertie  Gitana
Gertie Gitana, was born in Stoke on Trent in 1887.  Her real name was Gertrude Mary Astbury. At the age of 4 she  joined Tompkinson's 'Royal Gypsy Children' Troupe. They gave her the name  'Little Gitana' which was Spanish for a female  gypsy. At the age of 8 she had her first professional engagement. By the age of  17 she topped the bill at The Ardwick Empire in our great city of Manchester.  At the age of 20 she had a number one hit with the song 'Nellie Dean' for which she is famous for.  During World War One, she was known as the soldiers  "Favourite Songbird".
Besides being a singer, she was an accomplished dancer and saxophonist, there is  a story saying that when she was playing Cinderella in panto in the scene where everyone has gone to the ball she sits in her rags weeping in the kitchen, then brightens and exclaims: "Here I sit, all alone – I think I'll play my saxophone!' Reaching up into the chimney she produces the instrument and goes into her music hall act.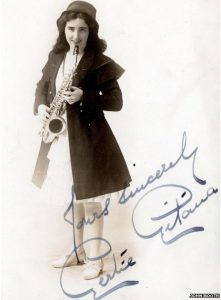 If you go to the Weatherspoons pub in Wigston called 'The William Wygston', you can read all about her on one of their wall hangings. In the early 1950's, Frederic Street in Hanley, Stoke-on-Trent, was renamed Gitana Street in her honour as was a public house there.
Randolf Sutton
Randolf Sutton was born in Bristol in 1888, he was an English singer and entertainer who worked in both music hall and variety shows.  He was always immaculately dressed in top hat, white tie and tails, which became his trademark. He was described as a sophisticated George Formby, delivering a similar type of innuendo-laden song but in an endearing West Country accent which made the songs seem less smutty. The lyrics to some of his songs left little to the imagination such as 'You Ought to Know Better, a Big Girl Like You'.
He is most remembered for singing 'On Mother Kelly's Doorstep'. This song was a big hit for three music hall stars, Fred Barnes, Randolph Sutton and Danny La Rue, three generations of gay entertainers.  Sutton always closed his act with 'On Mother Kelly's Doorstep', charming the audience into singing along simply by cupping a hand to his ear and smiling encouragingly.
He produced many pantomimes as well as appearing in some of them as a male principal boy, a rarity in his day.
In 1966 he made several television appearances in  Coronation Street as a nightclub singer. Sadly he died in 1969.
Ella Shields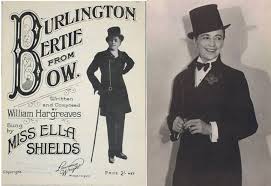 Ella Sheilds was the singer and male impersonator who brought to everyone's heart  the vintage  song 'Burlington Bertie'. She was born in Baltimore, USA but gained her fame when she arrived in England in 1904. 'Burlington Bertie from Bow' was written in 1914 by her then husband William Hargreaves as a parody of a successful Vesta Tilley song. Unlike performers such as Vesta Tilley and Hetty King, she never expected her audiences to believe she was actually a man. She was dressed in male attire but at the same time wholly feminine.  After success in pantomime, she then appeared as a male impersonator at the London Palladium.
Her biggest hit song was 'Berlington Bertie' but she had many more in her repertoire.  These included  such song as 'Adeline', 'Show Me the Way to Go Home', 'I'm Not All There', 'Cecilia' and 'If You Knew Susie'.
When Don Ross put together the cast for 'Thanks for the Memory', Ella was penniless she had been reduced to working in bars and honky-tonks in America. For a time worked behind the costume jewelry counter at Macy's store in New York so she was glad of the chance to revive her career.
When performing 'Burlington Bertie' she always wore a slightly shabby dinner jacket, a topper that was just a little dull and dented and gloves that were almost threadbare. She had carefully thought this out as Burlington Bertie was not a toff , nor was he a tramp but  just a man on his uppers.
G H Elliott
George H Elliott  was born in Rochdale in 1884 and shortly afterwards his parents moved to America. He made his stage debut playing 'Little Lord Fauntleroy' in New Jersey. At the age of nine he joined a minstrel troupe as a singer and dancer. His family moved back to Britain in 1901.
He was a white man from Lancashire who pretended to be an Afro-American by blackening up. Today the idea of a white man from Rochdale blacking-up and dancing around the stage singing about Carolina plantation fields is both ludicrous and deeply offensive.  But in G.H. Elliott's heyday it was part of a tradition of racial stereotyping, it went back to the minstrel shows of the 1830's and is an important part of American theatrical history, whether we like it or not. Many famous singers such as Al Jolson and Eddie Cantor began their vaudeville careers in blackface and very few people seemed bothered by this when Fred Astaire, Bing Crosby and even Shirley Temple appeared on film blacked-up.
In Thanks for the Memory he closed the show with 'Lily of Laguna', featuring his distinctive and beautiful dancing, The audience sang along with this. Only one movie clip of Elliott seems to exist, performing another of his numbers, Sue Sue Sue.
In 1970 In the television film 'In search for Chaplin' Tommy Steele played the part of G H Elliott to illustrate how Chaplin was captivated by such stars to produce his wonderful comic genius.
Talbot O' Farrell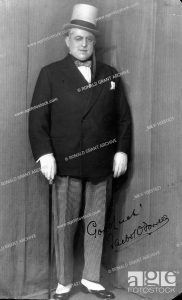 Above is  picture of Talbot O'Farrell dressed in frock coat, check trousers, white gloves, spats and grey top hat which were his trademark attire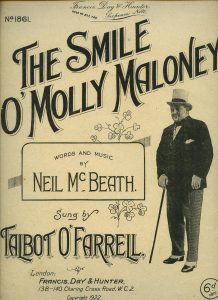 Talbot O'Farrell was not only a singer and a comedian, he also appeared in several films. Despite his Irish sounding stage name he was actually born in the north of England as William Parrot. Prior to his going on stage he was a policeman in Hull. Most of his songs had a Irish connection
Terry Doogan and The Six Silver Belles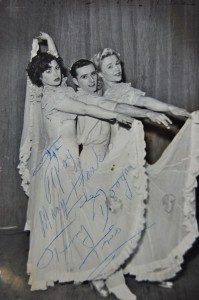 Terry Doogan was a brilliant dancer and accordionist who had also been comedian and singer.   Don Ross teamed him with some English dancers who he called The Silver Belles especially for this show.
Nellie Wallace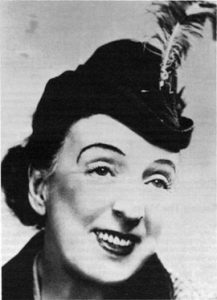 Nellie Wallace was born in Glasgow in 1870. She was very talented and excelled as a Music hall star, actress, comedienne, dancer and songwriter.
She was one of music hall's most beloved female comediennes. Her career started at the age of 12 as a clog dancer.  When she walked on stage the audiences started to laugh at her due to the fact that she had buck teeth and a huge beaky nose and her skinniness was heightened by a little hat with a tall quivering feather. She wore big boots and a tatty fur stole she called her "little bit of vermin,"
Despite having been a top star since 1910 she went on to play Pantomime dames which was very unusual for a woman.
She is remembered for  her surreal patter and bizarre songs such as Three Times a Day, The Blasted Oak and Let's Have A Tiddly at the Milk Bar, and Under the Bed. 
She was so excited about her appearance in the 1948 Royal Variety Show that she collapsed as she came off the stage and died several days later.
Billy Danvers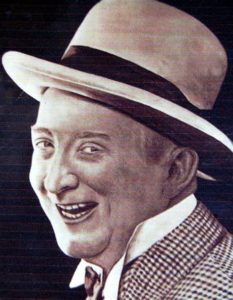 Billy Mikado Danvers the comedian was always billed as 'Always Merry and Bright or Cheery and Chubby'.  He was an unpretentious, old-style, red-nosed comic.
Born in Liverpool in 1884 his father, the famous D'Oyly Carte opera singer gave him his middle name Mikado after his most favourite role in the operetta 'The Mikado'.
Finale
Below is a press cutting from this amazing show.