Does your Spearmint lose its flavour on the bedpost overnight
"Does the Spearmint Lose Its Flavour on the Bedpost Overnight?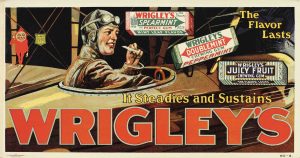 "Does the Spearmint Lose Its Flavor on the Bedpost Overnight?" was written by Billy Rose, Marty Bloom and Ernest Breuer. It was first released in 1924 and was a huge hit for the tenor and baritone vocal team Ernie Hare and Billy Jones, who featured it in their radio programme 'The Happiness Boys' which helped to ensure its success.
Billy Matchett is credited for being the first person in England to have a hit with the song 'Does Your Spearmint Gum Lose Its Flavour on the Bedpost Overnight?' It was also a hit for Fred Douglas and Leslie Rome who went by the name of The Two Gilberts who in the 1920's specialised in comedy numbers.
Wrigley's Spearmint
Wrigley's Spearmint was the brand name for chewing gum which was launched in 1893.  It very quickly became immensely popular in America and England.  As the name implies, the gum is flavoured with the spearmint plant giving it a nice refreshing taste. By 1908 it was so popular that it's sales were worth more than $1,000,000 a year.
It really seemed inevitable that someone would write a novelty song about it which is still popular nearly 100 years after the song was first written extolling the virtues of Spearmint Gum.
The Creative Composers
This great novelty song was the inspiration of Billy Rose, and Marty Bloom who wrote the lyrics and Ernest Breuer the music.
Billy Rose
Billy Rose was not only an American impresario, theatrical showman, singer and lyricist. One of his finest achievements was the construction of the famous dinner theatre, Casa Mañana which featured the world's largest revolving stage.   It is rumoured that when he went to a show he always booked four seats, one for himself , one for his date and the two seats in front of him so that he had a clear view of the stage. The most famous song that he was involved in writing the lyrics for was 'Me and My Shadow'.
Sadly he was possibly best know having been married to the famous comedic singing star Fanny Brice, though only for nine years.
Marty Bloom
He also went on to great to co-write Melancholy Blues and he adapted 'Willie the Weeper' from a  folk song to a jazz number which was recorded by Louis Armstrong. Because of his love of Jazz he briefly went on to manage two of the most brilliant jazz artists Fats Waller and Jelly Roll Morton.
The Sheet Music
The sheet  music I found shows Florrie Forde on the cover page and only cost 6d to purchase.  A bargain!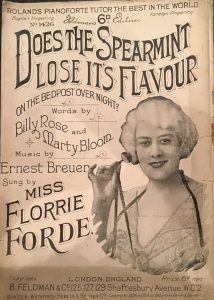 Florrie Forde
She was one of the biggest music hall stars of her era, and made this song popular with her audiences. She was warmly loved and idolised by her audiences, especially when she sang their favourite numbers from the 1st Word War like 'Pack Up Your Troubles In Your Old Kit Bag'.   In seemed only natural to Bert Feldman who owned the sheet music company that it would be a good sales ploy to feature her picture on the cover of the sheet music thus ensuring mass sales of the sheet music.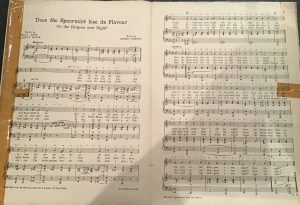 This sheet music in England was published by Bert Feldman & Co. of Shaftesbury Ave, London. On the rear cover was an advert for Roland Pianoforte Tutor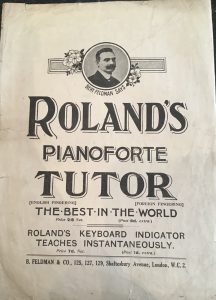 Bert Feldman
Born in Hull in 1874 it was his entrepreneurial skills which helped him to become the first 'song plugger' and 'hands on' music seller in Britain, helping to revive an antiquated music business which up till them had been totally dependent on music halls for song to become popular with the general public.  Feldman's aggressive marketing techniques 'broke the mold' and forged the modern day music industry in Britain.
In 1913, he went to America and bought  the exclusive rights for five pounds and without having to pay royalties of the biggest song of the First World War "It's a Long Way to Tipperary" from the writers Jack Judge and Harry Williams which made him a great fortune.
This was to became one of the two most successful song in Feldman's music publisher's portfolio.  The other was 'The White Cliffs of Dover' made famous during World War Two by the wonderful Dame Vera Lynn.
In 1909, he established his own publishing company in a building which was called  'Feldman's Arcade' in Blackpool, before relocating to London. Feldman's Arcade was often described as Blackpool's 'Tin Pan Alley'.  Interestingly he also purchased 'The Borough Theatre' which was renamed as "Feldman's Theatre", sadly it was demolished in 1972.
Feldman's Arcade is now a Yates Wine Lodge which is on Blackpool's famous  Promenade.  In later life he returned to his beloved Blackpool to live where in 1945 he died.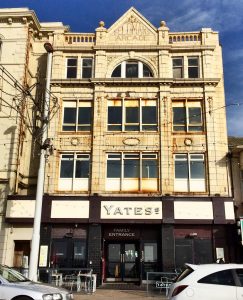 Lonnie Donegan's  version of the song
Here is his version as shown on Austrian Television in 1975.
The song had disappeared  from the music scene until 1959 when the 'King of Skiffle' Lonnie Donegan revived it. The name was changed from Spearmint to Chewing Gum. The reason for this was that 'Spearmint' was a brand name and the BBC refused to play any songs with brand names in them.  He also altered some of the lyrics to make it more appealing to the record buying public.
Lonnie Donegan
Scottish born Lonnie Donegan, known as 'The King of Skiffle' rose to fame in the late 1950's.  He had had several hits from 1955  up to 1959 , mainly with American folk songs, blue grass, trad jazz, blues songs such as The Rock Island Line and The Midnight Special and several comedy numbers.
Skiffle Music
Skiffle was part of the  great later part of the 1950's music scene along with Trad Jazz, Blue Grass and Folk music.  'The 2i's Coffee Bar' in Soho, London played a major role in the emergence of Britain's skiffle  bands besides giving a start to the  rock and roll music culture in the late 1950's, where many stars including Tommy Steele, Cliff Richard, Marty Wilde, Joe Brown, Screaming Lord Such and Wee Willie Harris were first discovered.
The main leaders of the skiffle music in England beside Lonnie Donegan were The Vipers Skiffle Group, Ken Colyer, and Chas McDevitt. It was a major part of the early careers of some musicians who later became prominent jazz, pop, blues, folk, and rock performers.  The Beatles were one of the many 1960's pop groups to have been influenced by skiffle. It has been seen as a vital stepping stone to the second British folk revival, the British blues boom, and the British Invasion of the US popular music scene.