Eartha Kitt stars in 'Caribbean Rhapsody' in 1948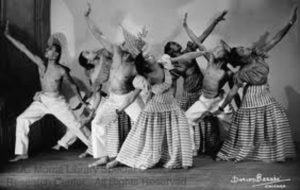 'Caribbean Rhapsody'
In 1948 at the age of 21, it was her 6th year as a performer that Eartha Kitt made her first appearance at the Manchester Palace Theatre in 'Caribbean Rhapsody'.  The audience was wowed by the dynamic and highly theatrical performance of the Katherine Dunham Company.
Val Parnell produced the show which starred Katherine Dunham and her company of which Eartha Kitt was part of. It starred amongst others Katherine Dunham,  Eartha Kitt, Vanoye Aikens and  Jesse Hawkins.
Katherine Dunham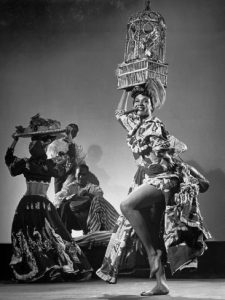 The show was quite revolutionary for its day, Katherine Dunham was the principal and choreographer of the show.  She had spent two years in the Caribbean studying all aspects of dance. She traveled through the whole of the Caribbean. It was in Haiti that she found her special personal and artistic talents. She brought the Caribbean and African influences to a European-dominated dance world so when her shows were seen in Europe, especially Manchester the audiences were entranced by the performances.
Below is the programme from the show at the Palace Theatre, Oxford St., Manchester.  Also take a note of how much the programme cost in 1948.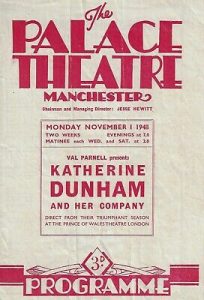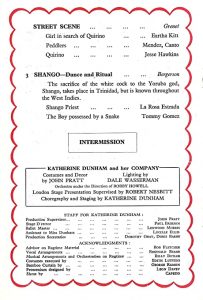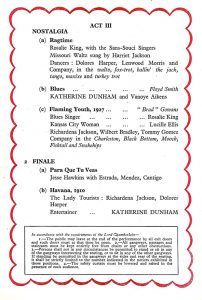 In Catherine Dunham's later years she opened  the famous Dunham School in New York where James Dean, Gregory Peck, Jose Ferrer, Jennifer Jones, Shelley Winters, Sidney Poitier, Shirley MacLaine and Warren Beatty all attended her school. Marlon Brando was also an attendee here where he played the bongo drums. Jazz musician Charles Mingus held regular jam sessions with the drummers as well.
She was inducted into the Black Filmmakers Hall of Fame, and was given a star on the St. Louis Walk of Fame for the field of Acting and Entertainment. She also appeared in several films between 1939 and 1964
Vanoye Aikens
Vanoye Aikens was the main male star dancer in the show.   When he joined her dance company it quickly became apparent that he was the only man in the company who could lift her so he quickly became her leading male dance partner.  He later went on to become a top choreograper.
After Katherine Dunham's dance company disbanded in 1962 he continued to perform on stage and screen all over the world; even having a brief career as a vocalist and actor, in 1963 he appeared in Cleopatra with Elizabeth Taylor and Richard Burton.
Other dancers and singers in the show
Jesse Hawkins was both a singer and dancer who dueted with Eartha Kitt in the show.  Other top dancer in the cast were  Wilbert Bradley, Roxie Foster, Tommy Gomex and Lenwood Morris.  One of the female dancers in the company was Lucille Ellis who was not only a principal dancer but was 2nd in command of the company and helped Catherine to run the company.
Eartha Kitt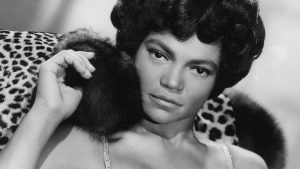 She was born on a cotton plantation in South Carolina in 1927 to  Annie Mae Keith who was of Cherokee and African descent.  She graduated from the South Carolina cotton fields to become an international symbol of elegance and sensuality,
Despite never actually knowing who her father was, she ended up living in Harlem where she attended the Metropolitan Vocational High School which in 1948 was renamed the High School of Performing Arts). She got her break in 1943 when she joined the Catherine Dunham Company. She was totally unknown to English Audiences when the company came to England in 1948 in the show 'Caribbean Rhapsody'
In 1950 she was introduced to, Orson Welles who was mesmerised by her; calling her, "the most exciting woman on earth"  He  gave her a starring role as Helen of Troy in his staging of 'Dr. Faustus'.
The first film she appeared in was 'Casbah' with Catherine Dunham in 1948. She has appeared in films with Sammy Davis Junior and Nat King Cole.
In 1960 she was honored with a star on the "Hollywood Walk of Fame".
Charles Revson, the billionaire founder of the Revlon cosmetic company was one of her former lovers who created a lipstick for her, calling it 'Fire and Ice'.
She sang one of her most famous songs 'Old fashioned Girl ' when she appeared on the Royal Variety Show in 1989.  She recorded the song "Just An Old Fashioned Girl" in 1956, which was written by Marve A. Fisher.  It proved to be a great novelty song which exploited her promiscuous gold-digger image, as she wooed millionaires and their money.  This number became the mainstay of her stage act, as her popularity developed around the world.
Her lithe, feline movements, the bewitchingly provocative glances from her wide-set eyes and her unique vocal style; girlishly husky with an effective use of vibrato were truly incomparable
Another song that oozed her underlining sexy act was 'Santa Baby'.  This song was written for the musical 'New Faces or 1952' which was not a very successful film but showcased Eartha Kitt singing 'Santa Baby'; 'C'est si bon'; 'Uska Dara' and 'Monotonous'.
It portrayed her once again as a sexy gold-digger with attitude proving that she definitely was the first real 'Material Girl' and not Madonna. Her stage presence is now as embedded in our collective pop psyche as Mae West's swiveling sex goddess.
Catwoman
In 1966 Eartha Kitt took over the role of Catwoman in the Batman movies, she was the 2nd actress to play the role in the camp series of 'Batman'.She brought a more serious and ruthless portrayal of Catwoman.  Eartha as Catwoman drove around in the "Kitty Car". Her performance as Catwoman was to prove to be Batman's most morally ambiguous foe, her charisma was electric; especially when she squeezed into the black leather suit and curled up as Catwoman on Batman.
As  Catwoman she had her own car called "Kitty Car"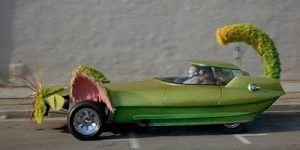 About a year after appearing in Batman in 1968 she attended a luncheon at the White House where she met Lady Bird Johnson and voiced her opinion about the Vietnam war. This resulted in her effectively being blacklisted from 1968 until 1974.  Because of this she turned to Europe and Asia to further her career; even appearing at Leeds City Variety Theatre in the television series 'the Good Old Days' in 1972.
Sadly she passed away in 2008 at the age of 81 from Colon Cancer.