'Hallabaloo' in Blackpool 1941

Blackpool entertainment in World War Two
Blackpool suffered only one air raid in World War Two, possibly this was because it was a seaside town with no heavy industry.  There are stories that another reason for Blackpool being a safe haven was that  Hitler wanting to retain it as a personal playground after the war.  His dream was to have his troops goose-stepping down the Golden Mile and placing the Swastika flag on top of Blackpool Tower.
The only main interruption to the normal activities of the time was that there were no illuminations, they had been stored in an old tram depot shelter.  The Summer Variety Seasons went ahead as normal with all the theatres putting on great shows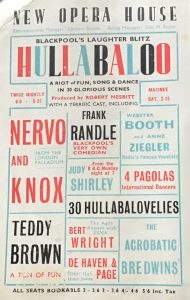 During the dark days of the 1940's Blackpool retained its popularity with the public.  People flocked to Blackpool for a holiday and got the fantastic entertainment that they were used to with all the top line artistes.
The population of Blackpool grew at  an alarming rate with over 4,000 civil servants had been relocated to Blackpool plus more than 38,000 evacuees  moved to live there as it was considered a very safe area. There were hundreds of soldiers and airmen billeted there.  Blackpool had 2 airports, the largest group of servicemen were from the RAF with over 20,000 American airmen based at Warton Airbase.
Owing to the bombing of London, most West End theatres were closed and many plays were premiered at Blackpool's Grand Theatre. The bright lights of the London stages came to Blackpool.  The theatres thrived, with fourteen different show every night for most of the war. Blackpool's entertainment industry prospered as never before.
In 1941 Blackpool Football Club came first in the League North, winning the Lancashire Cup having beaten Blackburn Rovers 7-1.
Hullabaloo at The New Opera House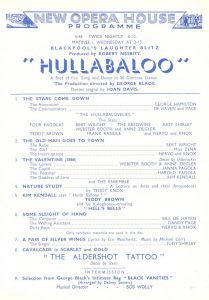 In 1941 the management of The New Opera House in Blackpool decided to take a gamble and employ Jack Taylor to produce their summer show 'Hullabaloo'.  He had fallen from favour because of an embarrassing mix-up over the 1940 show title 'Band Stand' at the famous Blackpool tower theatre.
Because of the fierce competition for summer show audiences Jack Taylor cleverly conceived the idea of selling the show to the public by giving away the publicity postcards with a picture of the beautiful Kim Kendall on one side and the cast and prices on the other.  Ensuring that the  potential audiences knew exactly what they were getting for their money.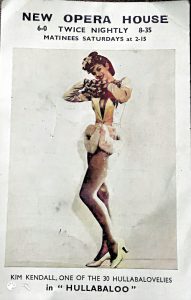 Kim Kendall
She was the youngest sister of the famous Kendall Girls, her older sister Kay Kendall became a famous actress who sadly died very young.  She was picked to promote the show because not only was she was beautiful but a talented dancer but I presume mainly for the fact of who her older sister was.
Kim came from a theatrical family. Her father Justin McCarthy was a variety artiste, professionally known as "Terry Kendall", and her mother Gladys Drewery who was a dancer. Her paternal grandmother was Marie Kendall, who had been a famous star of the music-hall, who had married Stephen McCarthy, a Canadian songwriter. So obviously there is where the Kendall girl's acquired their singing and dancing talents from. Acting and performing was in the family genes.
The two sisters, Kim and Kay Randell moved to London, where, despite being only in their teens, they had  the height and looks to find work as chorus girls. Kim appeared in revue at the Holborn Empire with Tommy Trinder, and then went to The London Palladium in a new review "
Gangway
". 
After two years, touring in George Black revues, the sisters formed a double act, appearing in the ENSA troop shows and on the variety circuit.
Frank Randle
Blackpool's very own comedian Frank Randle, who's act was a trifle saucy, even for Blackpool. He had a contract to appear at the Opera House and despite Jack Taylor not wanting him the show Frank Randle insisted that the contract was honoured.  Because of his saucy humour, he remained a huge box office favourite, so to appease Frank Randle he was given a short guest spot in this Summer Revue at the Opera House. Frank Randle was rather annoyed about this as he had expected to be top of the bill. Part of his act was that he frequently threw his false teeth into the audience which Jack Taylor found definitely not to  is liking.
Frank Randle had a very aggressive reputation, and was often seen hanging around the stage door, often swigging a bottle of Guinness, much to the disgust of Jack Taylor.
Judy Shirley
Judy Shirley was a celebrated radio artist known as the Singing Compere who regularly appeared on the BBC Monday night variety programme. She and her sisters  Ann Lenner, Rosa Lenner, and Shirley Lenner were all singers
She was also an actress  and appeared in films as Florence Elizabeth Green.  Cabaret Cruise (1937), Cabaret Cartoons (1936) and Variety (1936).
Nervo and Knox
Topping the show were the comic duo Nervo and Knox, of Crazy Gang fame.  They were originally an acrobatic dancing team.   One of their most famous routines was  slow motion wrestling act which always proved to be a show stopper  Interestingly in 1922 they went to America and appeared in the Broadway revues 'Pins and Needles' (1922) and the 'Ziegfeld Follies' of 1922 and 1923 before returning to England.
Anne Ziegler and Webster Booth
Another big show stopping act was the singing duo Anne Ziegler and Webster Booth. Until 1940 they had both been solo singers but fortunately for the public they formed their unsurpassed duet act.  They became an instant hit and went on to world wide fame for the whole of the 1940's and early 1950's. In 1956 they decided to emigrate to South Africa where they carried on their stage and cabaret act.
Webster Booth started his career singing with the D'Oyly Carte Opera Company, In 1938 he started singing with Anne Zeigler and later that year they married, a true double act by anyone's standards.  They were know as 'Sweethearts in Song"
Ann was born in Liverpool where she trained as a classical pianist, and studied singing
In 1945 they appeared in Oldham at the Odeon Cinema in a concert performance of 'Merrie England' with the Oldham Choral Society on a Sunday Afternoon. It proved to be so popular that it had to be repeated that same evening by public demand.
Teddy Brown
On the programme he is billed as a ton of fun, obviously this was due to his rather large  physique as he weighed around 24 stone, despite this he was rather dapper  in appearance.
American born Teddy was a master par excellent xylophonist, he played a six octave instrument, which covered two more octaves than a standard xylophone.  He also excelled on the drums and tenor saxophone besides dancing and could whistling whilst he played the xylophone.
He came to England in 1926 and led a band at the 'Cafe de Paris' in London, making several recordings for the Imperial and Vocalion record labels. From 1928 Teddy began to make solo xylophone records, mainly for the Broadcast and Imperial record labels, sometimes with band accompaniment.  In 1930 he decided to embark on a solo career.
His fame in the England spread quite rapidly, he even appeared in an early sound feature-length movie in 1930, co-directed by a young Alfred Hitchcock, titled 'Elstree Calling' a musical variety review.
The percussionist band-leader Spike Jones, who had his own high-energy career a decade later had been greatly influenced by Teddy Brown
Because of his love of the xylophone he named his house in Littlehampton 'Xylophone House'.
Bert Wright and Zena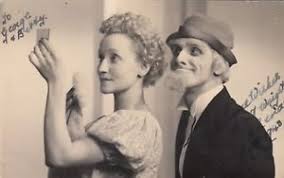 They were a popular comic jugglers music hall entertainers.  Unfortunately I haven't been able to find out anything about them but have found this movie of Bert Wright doing his comic juggling act in 1940 but alas without glamorous Zena.