The Midland Hotel Theatre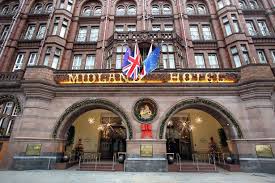 The Midland Hotel is one of Manchester's iconic buildings which was built by the Midland Railway Company and opened its doors in 1903.
So when I found some programmes for the Midland Hotel Theatre in Manchester Central Library Archives+;  it was with great surprise to discover that there had been a theatre inside the Midland Hotel, it was so ornate and beautiful but it was only in existence for 11 years, how sad!!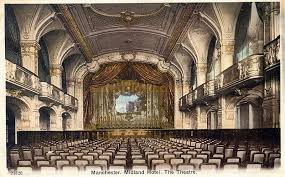 It was on the Mosely Street and the Windmill Street side of the hotel.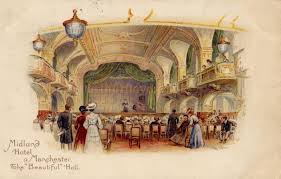 In 1905 they put the 'Follies' on at the theatre,  Norman A Blume starred in it, he later went on to star in Zeigfields Follies of 1916 starring the wonderful famous 'Fanny Brice'and he later went on to produce and direct shows.
An interesting article at the bottom of the page in one programme dated 1907 states 'Egg proof curtains to be lowered at least once during the performance for the protection of the artists'.  I'm not sure whether this was because they were worried that the artists were so bad!!
Another famous person who appeared there was Annie Horniman who ran a repertory group there but sadly she was asked to leave the theatre as it was considered unseemly for a woman to be seen smoking. She left there and founded the Gaiety Theatre.  She was the grand-daughter of John Horniman, founder of the Horniman Tea Company who was a devout Quaker! Another interesting fact!!
Below is a lovely picture of her on the cover of a paperback book  which definitely is a good read for all theatre fans and enthusiasts.
Annie Horniman: A Pioneer in the Theatre
Paperback  written by Sheila Gooddie