The Tivoli Theatre opened in 1897 on Peter Street where the Folly Theatre had been, it had had alterations to the outside to make it more ornate and was in use until 1921 when it then became a cinema.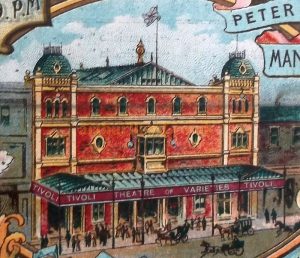 When it opened in 1897 it had the exciting new Adolphe Langfriers Cinematographe in use, this was an early version of a movie show.
Below is an example of how beautiful the programmes were.
In August 1898 The Lloyd Sisters appeared, they were listed as 'sisters of Marie Lloyd'.
An interesting performance was listed in February 1900, it was the main act on the show and it was a very short play starring Lydia Dreams and it states that the scenery, furniture and fittings cost £250 which was a very lot of money in those days!!  I was extremely curious to see who 'Lydia Dreams' was and was amazed to discover that she was Walter Lambert, a female impersonator, who when I googled him/her and discovered that he was a sort of drag artist and that he was listed as ' a gender bending performer who was one of the artistes celebrated in the New York City Pride Week in 2017.'
Also he was a renowned  painter and artiste; below is his famous painting 'Popularity'  showing the Stars of the Edwardian Music Hall.  In the painting is Dan Leno, Harry Champion, Harry Lauder, amongst a magnitude of over 200 Edwardian Music  Hall artistes.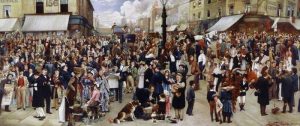 Throughout its life the theatre always had movies of the news, including the Chinese and South African War in 1900.
In 1903 Cliff Berzac was the starring act with his ponies and his 'unrideable' donkey, he offered a prize of £10 for anyone who could ride it.
In 1906 Vesta Victoria appeared, she was famous for her song 'Daddy wouldn't buy me a Bow-Wow', also in that year Countess Olga Romanow appeared, she claimed to be a cousin of the Czar of Russia but who knows if this was true!
I couldn't find a good version of Vesta singing her other famous song 'There was I waiting at the church' but found this great version of it.
In 1907 Ethel Whiteside appeared with her 'Mississippi Piccaninnies' , totally un PC today and finally in 1909 Florrie Gallimore  appeared as top of the bill, she was famous for singing 'My girls a Yorkshire Girl' ; another bit of trivia about her is that she appeared in the 1st ever Royal Variety show in 1912 for King George V and Queen Mary.