The Folly Theatre, Manchester
The Folly Theatre which was on Peter Street, Manchester  was opened in the 1880's by Edward Garcia who also owned the Comedy Theatre at that time. Here is a waterprint picture of what the theatre looked like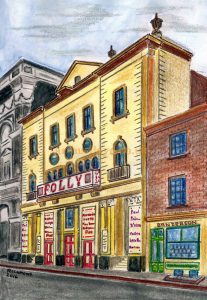 It was purely a variety show theatre, they didn't appear to put on plays or operetta's.  In 1893 Little Tich appeared as top of the bill, he was apparently called this because he was only 4'6" tall but was renowned for his comedy act.
In 1893 Vesta Tilley appeared at the Folly Theatre as did The Besses-O'th'-Barn Prize Band appeared as top of the bill.  I hadn't realised that Brass Bands appeared in variety shows, never mind being at the top of the bill, especially a local Manchester Brass Band. I can imagine what an amazing show it must have been.  Sorry I can't find any movie of them playing from that time but this is a lovely clip of them; especially for any Brass Band fans!!
In Feb 1894 Tom Connors who was one of the world's top wrestlers of his day was top of the bill giving an exhibition of his wrestling technics. In March of that same year Charles Coborn. He was top of the bill, he was famous for singing 'The man who broke the bank at Monte Carlo' and Two Lovely Black Eyes', I assume that if they would have had a hit parade in those days he would have been possibly top of the pops with his songs.
Charlie Chaplin also appeared but he was definitely not top of the bill as he had only just made his stage debut and he was only 5 years old!!
Sadly the last programme in our collection was for June 1894.