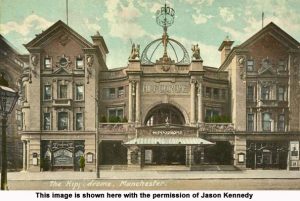 This theatre was on Oxford Street, Manchester and when it closed in 1935 it became a famous Manchester cinema 'The Gaumont' which had the equally well known 'Gaumont Long Bar' , sadly that closed in 1974.  Below is a short you tube clip of the actual theatre in its heyday.
The programmes for this theatre are so beautiful that it is a shame that I can't show them all to you to look at, but if you have the time come along and see them for yourself at Manchester Central Library Archives + .  Below is one of the programmes.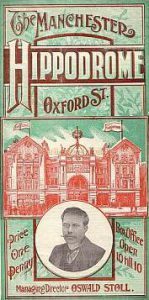 This theatre was opened in 1904 by Sir Oswald Stoll and had some interesting acts appearing here.  In fact, in one of the programmes from 1906 it states that 'This theatre was disinfected with Jeyes Fluid'. In 1907 it even had 'Boswell's Stage Circus' appear, so that's maybe why it used 'Jeyes Fluid'. In 1911 Professor Max Reinhard appeared in a show before he went to become a famous film director.
In 1912 W C Fields appeared at bottom of the bill, how incredible.
In 1912 they seem to have had a lot of animal acts such as Performing Elephants, Sea Lions and Birds.  Sarah Bernhardt also appeared here in a play plus the great British Comedian Will Hay  but again not at the top of the bill.
In 1914 the programmes were changed and inside is a seating plan of the theatre. In 1918 George Formby was the star of the Panto, an interesting fact about him was that he  was the father of  'The' George Formby
He and his wife Beryl went to live in Lytham St Annes ; there is a blue plaque outside their house, it was called 'Beryldene' and they bought it from Joseph Locke, the famous Irish Tenor, so if you ever visit St Annes, its worth finding the house.  Did you know that the BBC banned his songs for being 'smutty' in the 1930's.
In 1923 the star of the panto was George Jackley who on further investigation I discovered was the father of the famous comedian Nat Jackley. Towards the end of 1924 the programmes changed again with the cover suddenly becoming Art Deco, they are so gorgeous and a must to be seen by everyone!
In 1925 and 1926 some of the stars that appeared were Hetty King, Harry Tate, Little Tich, Rob Wilton and Sandy Powell and in 1931 Bud Flanagan and Chesney Allen starred there as well.
In 1934 Sir Oswald Stoll put on the Shakespeare play Henry V, which starred Valentine Dyall and his father Franklin Dyall.  Valentine then went on to become a world famous actor also the actress Jessica Tandy appeared in a play in a minor part and once again she became a world famous film star.
In the last programme we have for the Hippodrome in our collection which was on the 9th July 1934, it starred 2 very famous comedians, Max Wall and Frank Randle , sadly that is where it ends.
In 1935 it reopened as 'The Gaumont' Cinema.  I remember going there to see both 'South Pacific'and 'The Sound of Music'.
Below is a picture of the Gaumont in the 1960's showing the 'Sound of Music'