Stars of the Crazy Gang perform at the Manchester Hippodrome 1931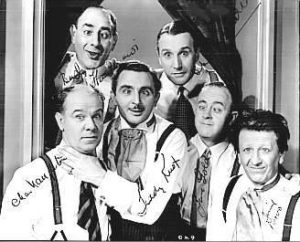 1931 the Hippodrome Theatre on Oxford St, Manchester had an interesting season with three double acts performing all in the same year, shortly afterwards they joined forces to became the Crazy Gang.  The Crazy Gang was one of the most famous and well loved acts of all time.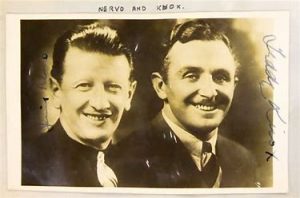 The comedic acrobatic dancing double act of Jimmy Nervo and Teddy Knox topped the bill . One of their most famous routines was a slow motion wrestling act which became a very funny show stopper.
Jimmy Nervo
Jimmy Nervo's father and grandfather were the Hollaway family circus owners. Jimmy started his career performing in the circus, by the time he was eight, he was in a high wire act with his brothers. At the age of sixteen he started performing in Music Hall's as a juggler, using the stage name Jimmy Nervo. His wife Minna Scott was a star who had been a performer with the D'Oyly Carte Opera Company
Teddy Knox
Teddy Knox started his career as a boy juggler, working with his brother under the stage name of 'The Cromwells'. He then went into a musical comedy show, adding dancing and comedy to his act. Teddy developed the art of the diabolo which made him a little distinctive as a juggler. His stage name was 'Chinko',  as a tribute to the great Paul Cinquevalli the German world famous juggler who appeared in the first Royal Command Performance in 1912. Teddy was married to another famous music hall star, Clarice Mayne. who was famous for the song 'Joshu-ah'  as well as playing principal boys in pantomime.

Flanagan and Allen
Another double act to top the bill at the Hippodrome, Manchester were Bud Flanagan & Chesney Allen. They met in a cafe in Flanders during the First World War, where they were both soldiers.    A wonderful friendship was formed and in 1926 they decided to become a double act. Val Parnell took a chance and gave them their first big break at the Holborn Empire in 1929. Their songs featured the same gentle humour for which the duo were known for. During the Second World War they reflected the experiences of ordinary people during wartime. Songs such as "We're Going to Hang out the Washing on the Siegfried Line" mocked the German defenses (Siegfried Line) and 'Run Rabbit Run' which was a dig at the Luftwaffe. Their most famous song and signature tune was 'Underneath the Arches'
Bud Flanagan
Bud by rights should have been born in America, but his parents who were fleeing from the pogroms in Poland thought they had bought tickets to go to New York but were sold tickets to London instead.  This turned out great for the British public and theatre goers. Bud Flanagan's real name was Chaim Reuben Weintrop and after  an antisemitic Sergeant Flanagan made his life hell in World War One, he decided that and one day I'm going to make your name the laughing stock of England."
When the BBC made the programme 'Dad's Army' about the wartime Home Guard they asked Bud Flanagan to sing the theme song, "Who Do You Think You Are Kidding Mr. Hitler?".  Sadly by then Chesney Allen had died.
Chesney Allen
Chesney Allen, started out as a straight actor who became the straight man to many comics on stage. In 1915 he enlisted in the 9th Lancers, as a cavalry soldier.  On more than one occasion he was escort to the Prince of Wale and claimed  that despite what people said about the Prince of Wales, he was a very brave man,"
Charles Naughton
Charles Naughton was a member of The Crazy Gang, and part of a double act with fellow Glaswegian Jimmy Gold.  In 1955, he starred in the first Guinness television commercial, playing the zoo-keeper with a German seal
Jimmy Gold
Jimmy Gold was a Scottish comedian.  He started out as a painter and decorator before teaming up with Charles Naughton originally doing tap dancing, they then graduated into comedy. Once when he was in the Crazy Gang, he was worried that he was going to be dropped from the act, so he told the rest of them "I don't care. I've got 40 grand in the bank". A little while later in another conversation he said "I don't care. I've got 30 grand in the bank". At which one of the other members of the Crazy Gang stopped the car. "What are you doing?" said Jimmy. "I'm going back," said the driver. "Somewhere between here and the last petrol station you lost 10 grand and I'm going back to look for it".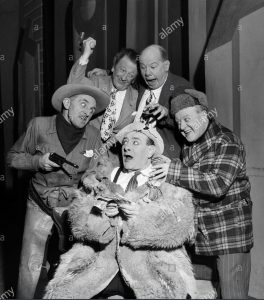 The Crazy Gang
How did they became the crazy gang ? It is thought that  George Black helped found the Crazy Gang but it's more complicated than that. In 1931 three double acts (Nervo and Knox, Naughton and Gold and Billy Caryll and Hilda Mundy) were booked to appear at the London Palladium. George Black considered cancelling one of the couples as Nervo and Knox had a technique of entering other acts. George Black was persuaded to overcome this problem by letting this happen. The show, which was called "Crazy Week" opened on 30 November 1931. It was such a success that more 'Crazy Weeks' followed with Flanagan and Allen added. The name 'Crazy Gang' was introduced in a show called "The Big Crazy Gang" at the London Palladium.
They became so popular in the music halls that in their height of fame they starred in 16 films throughout the 1930's and 40's. During their career, they said they threw over 30,000 eggs, tons of soot and hundreds of pounds of flour over one another.   Amongst the many famous people who joined the crazy gang from time to time were Monsieur Eddie Gray and Stanley Holloway.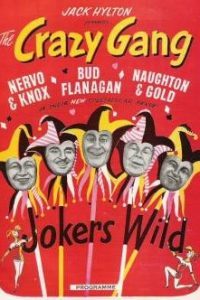 .