Another Opening, another Show 1904 at the Manchester Hippodrome

The start of a Great Theatre
The Manchester Hippodrome Theatre was situated on Oxford Street, Manchester It was built by Sir Oswald Stoll in 1904 at the princely cost of £45,000, today 2019 this would be about £5 million. On its opening night it was advertised as 'A Variety Theatre and Circus, staging the most amazing water spectaculars and moving films'
It was built on part of the site of Hengler's Grand Cirque, which had opened in 1900.  Charles Hengler's Cirques held between 4,000 to 5,000 people and often hundreds of people had to be turned away due to its popularity, unfortunately it's success was short lived. In 1904 it was bought by Arnold Stoll and became the Manchester Hippodrome Theatre.  With its new ownership it became a grandiose place because it was lit solely by electricity. Electricity had not been in such public use before this time. It was a sight to be behold.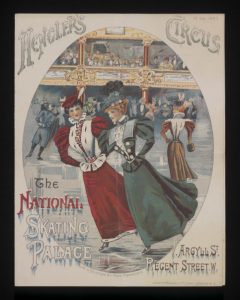 The theatre comprised of a stage, a large circus ring. Below the ring was a circular tank holding 70,000 gallons of water, heated by its own furnace.  A false floor in the tank could be raised and lowered by means of a hydraulic ram.  Under the auditorium were stables for 100 horses and cages for the animals.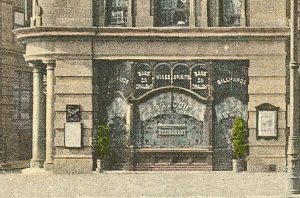 It also had its own restaurant and a shop, this was far ahead of its time.
Sir Oswald Stoll
Sir Oswald Stoll was an Australian-born British theatre manager and owner of Cricklewood film studio's in the 1920's silent movie era.  In 1912 he founded the  Royal Variety Command Performance's which are still going strong in 2019. After World War One, he set up a foundation for homes for the War veterans and their families.
The Architect and designer Frank Matcham
Frank Matcham, the famous English theatre architect designing this breathtaking theatre. Sir Oswald Stoll called it 'The Hippodrome'  after discovering that it was the Greek word for Stadium. Besides designing theatres, he designed the Cross and County Arcades for the Leeds Estate Company, between 1898 and 1900.Below is a picture of the beautiful County Arcade in Leeds.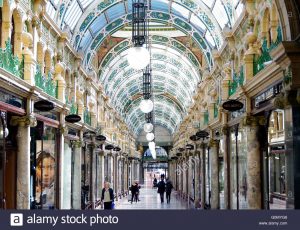 Opening Night
The Theatre opened on Boxing Day 1904 with a variety show and a water spectacle direct from the London Hippodrome. The opening show consisted of "Tally-Ho! A Hunting Sensation in Four Acts" which was a water show spectacular. It was followed by the circus; included acrobats, performing dogs, elephants and high wire acts. It used this format of circus and water spectaculars for the first six years.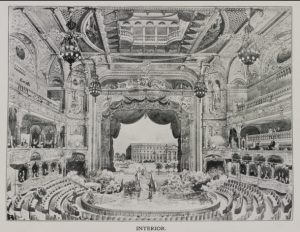 On the playbill were the Marvellous Noisets,  Elsie Clare, Manning's Entertainers, including Will Mannings  who was famous for his Turkish bath sketch. Max Gruber with his famous horse and Elephant act; the McConnell Trio who were vocalists and comedian and Rafayette's Dogs. The advertisment says 'Rafayette directs them with only a smile for assistance'. Another advert states  RAFAYETTE'S MARVELOUS ACROBATIC DOGS "A Group of Wonderfully Educated Canines".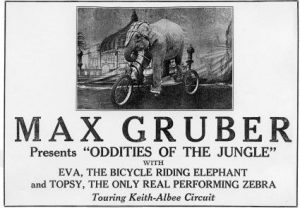 Max Gruber and his assistant Adele Bonowit featured in their act 'Minnie the elephant' who they acquired in 1899,  a horse and a Shetland pony. They were regulars at the Manchester Hippodrome, their act became known as 'Gruber's Animals'  and he also became the circus ring master.  He went on tour in America and shared the bill with The Three Keatons, one of which was the famous Buster Keaton, who was famous as an actor, a comedian, a film director, a producer, a screenwriter, and a stunt performer, truly a man of many talents.
The Bioscope
The evening ended with a film on the bioscope, which was the start of showing silent movies in theatres.  Montagu A. Pyke, who was a former commercial traveller, gold miner and bankrupted stock market gambler decided to venture into the future movie house empire and brought the bioscope idea to theatres all over the United Kingdom.  The public were enthralled by there experience of the silent movie films.
Above is an example of one of the movies  'Alice in Wonderland' by Cecil Hepworth made in 1903   Hepworth was originally a magic lantern showman and author. In 1899 he set up his silent movie company. In 1910 he invented
Press Review of the theatre
Prior to the opening night for the public their was a preview held for the press on the 23rd of December'. The newspapers wrote the following 'Those who were fortunate enough to be present at the private viewing of Manchester's latest palace of amusement were quite willing to believe that for beauty of design, unique arrangement, and luxurious furnishing, the Manchester Hippodrome is equal to any thing of the kind in the Kingdom'.
Some of the Amazing Animal acts at the Circus
Most of the shows in the Hippodrome were variety shows but in July 1907 they had Boswell's Stage Circus  who were advertised as having a magnificent stud of educated ponies, cantankerous donkeys and very clever dogs. Juliettes Comedy Sea Lions and Samuel Lockhart's Elephants were a big draw to the general public.   He toured with his most famous group of elephants called "The Three Graces". Samuel Lockhart was part of the famous Lockhart Circus family.  His son George Claude Lockhart became the ringmaster at the circus  at Belle Vue, Manchester and also at The Tower Circus in Blackpool. Samuel Lockhart and his elephants performed all over Europe and the USA; they even performed for Queen Victoria. In America he performed in the Ringlings Brothers Circus and was advertised as "Prof. Lockhart's funny, dancing, pantomimic, play-acting elephants"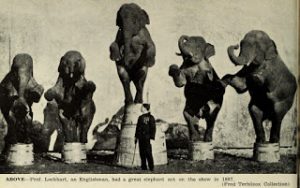 On the same bill as the Boswell Circus were Winifred Hare, the singer and actress who was famous for 'Honey boy' and 'how'd you like to spoon with me' and Harry Tate.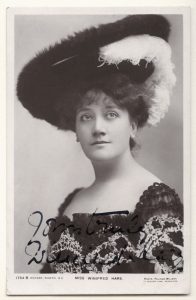 Harry Tate
Ronald Macdonald Hutchison was the  real name for Harry Tate, who acquired his stage name from the Tate and Lyle Sugar Company due to the fact that he worked there.
Winifred Hare
She was a charming and popular actress, who has had a theatrical career of unvaried brilliance and success. she appeared in many pantomimes as the principal boy. Miss Hare was a well-known favourite in opera-bonffe. She has played with great success the lead role in the French operetta 'La fille de Madame Angot'
Home from Honeymoon by Arthur Jefferson
This play was staged at the Hippodrome in July 1907 with Miriam Holt, Alfred Lea, Frank Bounell and Wilfred Compton being the main actors in this touring version of the play.  It was so  popular that two films 'Duck Soup' in 1927 and  'Another Fine Mess' in 1930 starring Laurel and Hardy and 'Duck Soup' were made. 'Duck Soup' was a silent film whereas 'Another Fine Mess' was a talkie.
Arthur Jefferson
Scottish born theatre actor, comic and playwright Arthur Jefferson provided the inspiration for his son Stan Jefferson, the man who's stage name was Stan Laurel.  Arthur Jefferson's plays were very successful both in England and overseas. He had 4 children who all followed him into the theatre with Stan being the most successful one. The eldest, ran the Glasgow Coliseum for a while; worked on submarines on the Clyde during the First World War; and toured Scotland both as an actor and with his own popular play. . Stan's sister, Beatrice Olga, also went on the stage.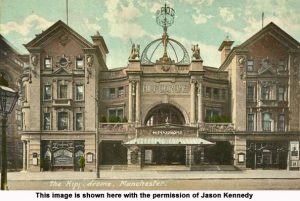 .