'What every woman Know' is the well kept secret at the Opera House, Manchester in 1929
Sweet Lavender
The popular romantic comedy 'Sweet Lavender' was written by the Victorian playwright Sir Arthur Wing Pinero. It was staged in 1923 at the Opera House, Manchester. It was a great success in the West End and toured successfully throughout Europe and America. the author called it a "domestic drama."  Sweet Lavender was first performed in 1888 and in 1920 it was made into a silent movie. The female star of the film was Mary Miles Minter, a silent movie star of over 53 silent films.  Her reputation was tarnished when her lover director William Desmond Taylor was murdered, supposedly by her mother.  Because of this she was forced to give up her career.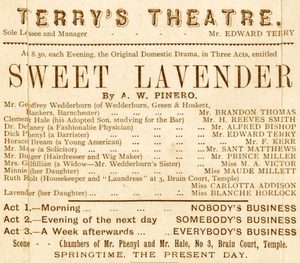 The Actors in the play
It starred Margaret Halstan,the Shakespearean actress, she also appeared in several films including the film 'Old Mother Riley in Society' which was about the pantomime 'Aladdin'. This was a complete departure from Shakespeare.
Another actress in 'Sweet Lavender' was Alice Moffat, who was born in Berlin but studied at the Royal Academy of Music, she then mainly performed in light opera.
Below is a picture of Margart Halstead as Desdemona in Othello.  Interestingly the photographer was Manchester's own Percy Guttenberg who was a Cabinet Card Photographer. 
Leo Danvers Heron, another Shakespearean actor  was the male lead in the play. His father was the short story writer Gilbert Heron.  He was involved with the Marconi Radio Company. He wrote, produced and performed in a stage play with other family members called 'Saved by Wireless', which used real Marconi electronic instruments as dramatic props.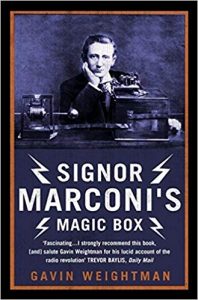 Sir Arthur Wing Pinero
Sir Arthur Wing Pinero was born into an English family descended from Portuguese Jews who fled to England from Portugal during the Inquisition. His grandfather abandoned the Jewish faith and married a Christian woman named Margaret Wing, and became a highly successful lawyer.
Sir Arthur Wing Pinero trained to be a lawyer like his father and grandfather before him but then decided to become a playwright. He wrote over fifty plays; he owed his fame to the success of 'Sweet Lavender'. Most of his early ones were farces but he did also write serious plays such as 'The Second Mrs Tanqueray'. He used to direct all the rehearsals and would train each actor in the interpretation of his or her part, but due to his shyness he never attended any first nights of any of his plays. One of his most famous quotes was 'A financier is a pawnbroker with imagination'. In 1898 he experimented by writing an opera with Sir Arthur Sullivan of the famous Gilbert and Sullivan Operetta's fame. The Opera was called 'The Beauty Stone', sadly it was only performed on stage for just under 3 months despite having a cast of the top opera singers.  Below is one of the songs from this opera.
Bluebeard's 8th Wife in 1924.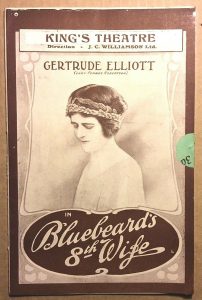 Bluebeard's 8th Wife is a romantic comedy which was so enchanting that in 1923 it was made into a blockbuster film starring Gloria Swanson. In 1938 it was remade with a star studded cast of Claudette Colbert, Gary Cooper and the debonair  British actor David  Niven.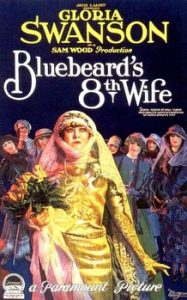 The play at the Opera House starred Basil Radford in the role of 'Bluebeard'. He later made the transition from stage to movies and is especially remembered for his role in the 1938 version of Alfred Hitchcock's masterpiece 'The Lady Vanishes'
'What Every Woman Knows! '
'What Every Woman Knows! was written by J M Barrie. The play is about the title as every woman knows she is the invisible power responsible for the successes of the men in her life, in other words, the power behind the throne. This highly successful play also ran on Broadway.  It was so popular that it was made into films in 1917, 1921 and 1934. In 1953 it was then turned into a musical and renamed 'Maggie' but sadly none of the songs from the show have been recorded. The stage show in Manchester starred Peggy O'Neil the Irish-American vaudeville actress played the lead female character Maggie.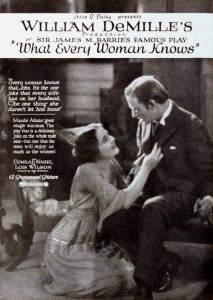 J M Barrie
Most people only associate Scottish born J M Barrie with Peter Pan despite writing over 60 books and stories.  He even wrote a comic opera with Arthur Conan Doyle called 'Jane Annie' otherwise 'The Good Conduct Prize'.  Despite these 2 famous men writing it and it having a marvelous cast of eminent singers it was a resounding flop.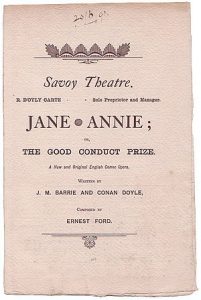 The Comedy  of Errors
The Comedy of Errors by William Shakespeare was brought to Manchester by Robert Courtneidge and Henry Baynton.   Robert Coutneidge, had close links to Manchester as he had previously been the manager director of the Prince's theatre on Oxford St.  He was also the father of the world famous actress Cicely Courtneidge.  Henry Bayton was a famous Shakespearean actor and had several theatrical companies. . In this production was 23 year old Eric Portman in his first ever stage show.  It also featured the more experienced actors Lionel Ridpath and Jack Twyman
Aladdin and Humpty Dumpty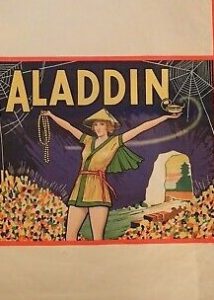 During the 1920's the Opera House were not very pantomime minded, Aladdin was staged in 1925 with Cicely Debenham  and Margaret Sousa played Aladdin and the Princess. Cicely Debenham was a comedy actress and singer.  In 1923 she appeared in her first Broadway show Zeigfeld's  "Nine O'Clock Review". She was married to Sir Guy Ridley, he was an eminent barrister and a Master in Lunacy.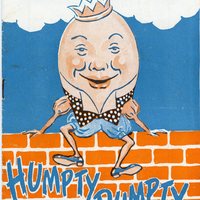 Humpty Dumpty was the pantomime for 1929, Betty Warren, a 22 year old comedy actress and singer was a star in the show.  Later on in her career she became an English movie star. She appeared in such classics as 'Passport to Pimlico' in 1949 with Stanley Holloway and a cast full of wonderful English actors and actresses, too many to list. She also appeared in the film  'Champagne Charlie' in 1944 alongside  the great British comedian Tommy Trinder and Stanley Holloway.  Both these films were made in the legendary Ealing studios  .
Fred Holt and Johnnie Schofield were both character actor.  Johnnie Schofield went on to appear in over 30 films including 'Old Mother Riley Detective'.