The Opera House and some of its shows 1919 to 1921
The play 'Seven Days Leave'
The Great War was over and people wanted a bit of fun in their lives again, audiences wanted  to see  romance, humor and excitement on the stage to brighten up their lives. 'Seven Days Leave' by Walter Howard  met every one of those expectation. Howard wrote this play "to please his brave young soldier son'.
Walter Howard was a well-known actor and playwright in Great Britain and Australia, where he had lived . By 1917 he had written at least twenty plays, mainly melodramas.
Here are some of the reviews of Seven Days Leave  "Never before have we had such a War Play, with such daring deeds, so brave a hero and so fair a heroine."  "It is a great military play with an intensely interesting story." and "The play teems with comic lines, while the love interest is, of course, particularly strong."
It starred Henry Lonsdale and Hilda Antony, they played the leading roles in this play.  Besides appearing on the stage in England they both went on to further their careers in silent movies in America. At the top of this article is a picture of the heroine played by Hilda Anthony
POTASH AND PERLMUTTER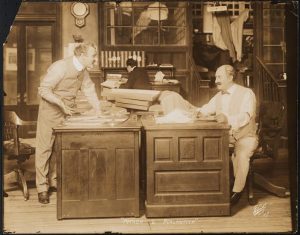 Montague Glass wrote the book 'Potash and Perlmutter' in 1909.  It was so successful it was then transformed into a play in 1913 on Broadway then into a silent movie in 1923.  This was then followed by several other film versions. 'The garment business is full of woes, what with strangling bank fees, designer problems, changeable Paris fashions, but worst of all are partnerships' bemoans Abe Potash, that is until he meets Morris Perlmutter. In no time at all they seal the deal to face the troubles and joys of business together.  Below is a newspaper article about the play when it was turned into a movie.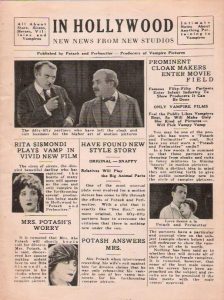 Montague Glass, the  Manchester born author
Montague Glass was born in Manchester, England, but spent his childhood in Baguley, Manchester. Montague's father worked in the linen and cotton trade. The family moved to New York in 1890, in pursuit of his father's business interests. He trained to be a lawyer but he loved writing and he created  the pair of characters that would prove to be his most enduring and entertaining creations: Abe Potash and Morris 'Mawruss'  Perlmutter.  They continued to be the central figures in six more plays during the next fifteen years. He was a very prolific writer. He wrote about 600 stories and articles, fourteen plays and several motion pictures.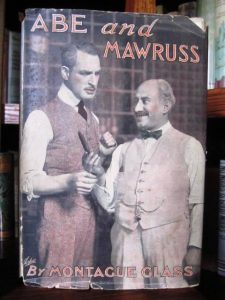 'The Heart of a Child' the play
" Little Jane was as good as gold, she always did as she was told. The consequence was she was given in marriage to a first-class Earl who kept his carriage."
The above elegant motto gives a good indication of the plot of the play. The adventures of Sally Snape (little Jane) and her progress toward the peerage. The characters of Sally and her Lord are like2 Prince" and the "Beggar-maid,", a very unlikely match.
Below is a newspaper article about the play when it was made into a film.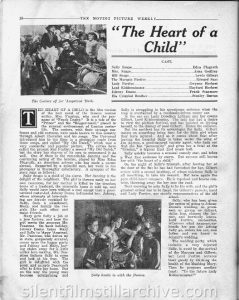 Frank Danby, the author of the play
This play was written by Frank Danby, who on further investigation turns out to be the pen name of Julia Frankau.  It is sad that in the year of 1921 a woman perceived it to be necessary to use a pen name to get her play published.  I know that there were many female authors who did this but it is hard to understand why.  The English novelist, actress, and dramatist Elizabeth Inchbald in the 1800's used her own name very successfully.  One reason Julia Frankau did this was possibly as a Jewess with a very Jewish sounding surname she thought it wouldn't be acceptable, so she chose what sounded a very English name.
Julia came from quite an interesting family as she was a sister of the librettist Owen Hall . One of her sisters Mrs Aria,  was a gossip columnist and fashion writer. Another of her brothers, Harrie Davis, emigrated to New York, and became a famous journalist. Possibly another reason for her success was for a short while she was tutored by Laura Lafargue, one of Karl Marx's daughters.
Bubbly
This revue included the songs: 'We'll have a little Cottage', 'Reckless Reggie', and 'She'd a Hole in her Stocking'. 'Bubbly' opened in May 1917 and featured 12 sketches, or 'Bubbles', as they were billed. The public loved the light and frothy mixture of songs and sketches  The cast included the 25-year-old Jack Hulbert, who went on to become a star of musical comedy.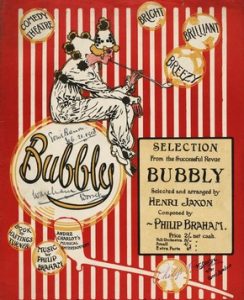 André Charlot, the producer of the show
Bubbly' was a popular revue produced by André Charlot, a Parisian who was one of the most prolific 20th-century West End producers. He started work in the theatre as the assistant manager at the prestigious 'Folies-Bergere'.  What an amazing and exciting experience that it must have been.  He was the first person to give Noel Coward his first big break.  He became famous for his series of intimate revues, some co-produced by C.B.Cochran. These revues included such famous stars as  Jack Buchanan, Gertrude Lawrence and Jessie Matthews.
The Panto was Tom Tom the Pipers son
In 1921 Tom Tom the Pipers son, was the Christmas pantomime. It is not an easy or popular pantomime to stage but they did it with great success. I have found a clip of a silent movie of Tom Tom the pipers son from 1905 which I hope you will enjoy and find interesting.
The audience are taken back to Nursery-rhyme land for this lively pantomime of adventure, comedy and magic with all the traditional favourites: the Good Fairy, Georgie Porgie, Old King Cole, and his scatty Queen Mattiwilda, Dame Sprightly and her son Tom, who rescues the Princess from the naughty Knave of Hearts and his not-so-naughty villains Buckett and Spade.
Mabel Green a singer and actress who was very pretty played her part as the Princess to perfection. Marriott Edgar, besides being a comedian, poet and scriptwriter stole the show with his pantomime Dame Sprightly. An interesting bit of trivia about him is that he wrote most of Stanley Holloway's monologues.  The most famous one being 'Albert and the Lion'. He was also the half brother of Edgar Wallace, the famous playwright and journalist. George Ali who was famous for his animal impersonations possibly played the part of the pig !!