Sherlock Holmes solves two mysteries at the Opera House, Manchester 1929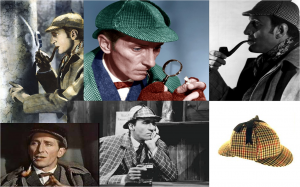 In 1929 Manchester theatre goers were given the opportunity to see Sherlock Holmes solve not one but two mysteries as there were two Sherlock Holmes plays that were performed within a fortnight of one another, both were from different production companies.
Sir Arthur Conan Doyle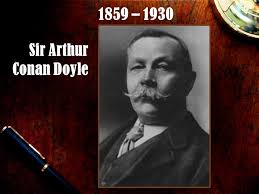 Despite being born in Edinburgh Arthur Conan Doyle went to boarding school in England, which for some reason he did not enjoy. He later went back to Edinburgh to study medicine and that was where he started to write his first stories.
At the age of 28 he wrote his first Sherlock Holmes story 'A Study in Scarlet' which was an outstanding success. Arthur Conan Doyle lived at 2 Upper Wimpole Street, London; but Sherlock Holmes fictional address was 221B Baker Street. When the Sherlock Holmes stories were published, addresses in Baker Street did not go as high as 221.  Anyone who is interested can visit the Sherlock Holmes Museum in Baker Street.
Conan Doyle was best known for the 60 stories he wrote about Sherlock Holmes. His wrote nearly 200 novels as well as short stories, poems, historical books and pamphlets.
He was a keen sportsman and played as a goalkeeper for Portsmouth Football Club, under the pseudonym A. C. Smith. He also played cricket for the Marylebone Cricket Club (MCC). He was also a keen golfer, billiard player and an amateur  boxer. 
Despite all Conan Doyle's Sherlock Holmes books being extremely successful, due to financial problems he decided to transfer Sherlock Holmes to the stage.  At the time he was short of money to buy his new house, 'Undershaw', a beautiful Victorian house with a unique heritage, set in the picturesque village of Hindhead, Surrey.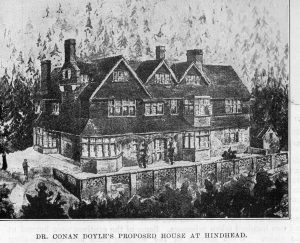 He first approached  Sir Charles Beerbohn Tree with the idea of making it a play but he was not happy with Beerbohn's idea's. He was then approached by Charles Frohman the American theatre magnate and producer.  An interesting fact about Charles Frohman was that he drowned when the RMS Lusitania sank  in 1915.  He was on his way to England to check out the theatre scene in both London and Paris.  William Gillette was meant to have travelled with him but had to decline as he was busy working in Philadelphia.
Charles Frohman persuaded Conan Doyle to collaborate with William Gillette, the actor who was going to play Sherlock Holmes in the Broadway show.  Surprisingly enough it is in this play that the famous line, 'Elementary my dear fellow' which became "Elementary, my dear Watson" which was said but it  actually didn`t appear in any of the novels. William Gillette decided that in this play Sherlock Holmes would have a love interest by the name of Alice Faulkener. Conan Doyle's wasn't comfortable with this at first but when the play was a resounding success and making a lot of money he changed his mind.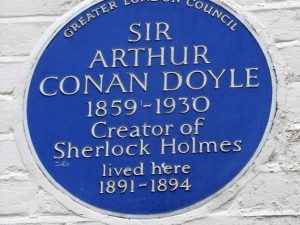 William Gillette

William Gillette was an American actor, stage manager and playwright.  He was introduced to Conan Doyle by Charles Frohman and was asked to collaborate with Conan Doyle to write the stage play of 'Sherlock Holmes, which they did with great success. He even took the lead role of Sherlock Holmes on Broadway. Some of the props he used in the 1899 production on Broadway were a pipe, a magnifying-glass, a violin, and a syringe.  In 1916 he even played that part in a silent movie of the same name. In  August 1914 William Gillette paid a visit to England to see Conan Doyle . He stayed at the Savoy Hotel in London,when he was accused by Scotland Yard of being a German spy as for some reason he had the British embassy plans in his possessions. Arthur Conan Doyle was called to vouch for him.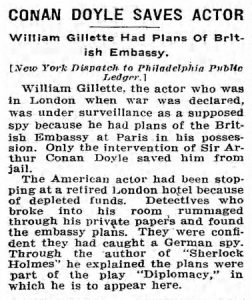 Sherlock Holmes the play
The first play was entitled 'Sherlock Holmes' which was written by Sir Arthur Conan Doyle and William Gillette. It premiered on Broadway in 1899 and featured Professor James Moriarty as the arch villain.  The 1929 production was meant to be its farewell reivival but actually it wasn't.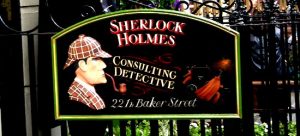 In the play Sherlock Holmes pits his wits against the criminal mastermind, the villainous Professor Moriarty in a fast moving spectacle full of humour, drama, mystery and suspense.  Gillette changed the straight pipe Sherlock Holmes used in the novels to a curved pipe as we know him to use today.  This and the Deer-stalker hat which are quite iconic of him are not from Conan Doyles stories.  During the show's London production at the Lyceum theatre in 1901 the 13-year-old Charlie Chaplin played Billy the pageboy. The Royal Shakespeare Company revived the play in 1973.  It has made into films in 1915, in 1922 with John Barrymore as Sherlock Holmes.
The Cast of 'Sherlock Holmes at the Opera House
The cast of the play in Manchester in 1929 play starred H A Saintbury as Sherlock Holmes, George E Fearon as Dr Watson, Quinton McPherson as Professor Moriarty, Dorothy Chevalier as the heroine, and Ernest Hill. It was staged by Mr Cecil Barth's Company.
Sherlock Holmes the Musical
There were 2 musicals made about Sherlock Holmes, the first was in 1965 but it only ran for 9 months, it was called 'Baker Street'. This show ran on Broadway but it was never performed in England.
In 1988 the musical version of 'Sherlock Holmes' premiered in London. Leslie Bricusse wrote the music and lyrics for this show; in this version Ron Moody played Sherlock Holmes. Derek Waring played Dr Watson and Liz Robertson played Bella Spellgrove, the beautiful daughter of the evil Dr Moriarty, who in this musical was deceased. Bella and her mother, Mrs. Moriarty are plotting to bring 'death and disgrace' to Holmes as revenge for killing Professor Moriarty. This show was  revised with a new production at the Bristol Old Vic in 1993 with Robert Powell in the title role, Roy Barraclough as Watson and Louise English as Bella Spellgrove. In 2013  the show was once more revised but this time performed within a Victorian Music Hall.
The Speckled Band
The Speckled Band was staged two weeks after the play 'Sherlock Holmes' was performed.  This Sherlock Holmes play was classed as a 'locked room mystery' and turned into a film in 1931. The stage show starred Henry Baynton the famous Shakespearean Actor playing the repulsive villian Dr Rylott, Andrew Cruikshank played the part of Dr. Watson. He later went on to play Dr Cameron in the  television series Dr. Finlay's Casebook, from 1962 until 1971. Douglas Rubery was Sherlock Holmes and Doreen Barker was Enid Stoner.
Not only did Henry Baynton act as the arch villain in this great suspense he was also joint owner of the production company  set up by Henry Baynton and Max Gayton. Max Gayton had been a very successful actor in his time.
The writing of the Speckled Band
Conan Doyle was quoted as saying "I shut myself up and devoted my whole mind to making a sensational Sherlock Holmes drama. I wrote it in a week and called it The Speckled Band after the short story of that name. It was a considerable success."  He based the play  on the novel 'The Stonor Case", which was one of his personal favorites.  In 1931 it was made into a film.
Sir Arthur Conan Doyle's adaptation of his story "The Adventure of the Speckled Band" is a thrilling theatrical escapade in which Sherlock Holmes outwits the evil Dr. Rylott who is plotting to do away with his young ward. Considered by Doyle as one of his favorite short stories, his adaptation of the classic locked room mystery thrilled every audience. This melodrama is as gripping today as it was when it was first produced.