'Ragtime' arrives at the Opera House, Manchester 1912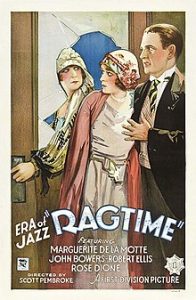 The Beginings of a New Theatre on Quay St, Manchester
When the Opera House Theatre first opened in Dec 1912 it was not called the Opera House but the New Theatre.  In 1915 it was renamed the New Queen's Theatre as a tribute to the former Queen's Theatre which had started out in Spring Gardens in 1755.  It was then relocated to Bridge Street in 1870 before being demolished in 1911.  As the oldest known theatre in Manchester, it was quite an appropriate way to pay tribute to part of Manchester's theatre heritage.
1920 saw the theatre renamed The Opera House and is still going nearly 100 years later. The only reason I can assume as why it was called The Opera house was that from 1914 there were lots of different opera's put on there by an assortment of Opera Companies. Sir Thomas Beecham also performed there.
It is rumoured that the instruction to build the theatre came from Irene Vanburg, who was one of Britain's highest regarded dramatic actresses of that time. She was married to the actor and stage producer Dion Boucicault Jr who was the son of the famous Irish playwright.
Opening Night Show 'KISMET'
On Dec 26 the theatre opened with a matinee performance of 'Kismet'.  The audience loved both the play and the decor of this new lavish theatre. This version of Kismet was a play, it was set in old Bagdad  and is the story of a street poet and his beautiful daughter. In 1955 it was turned into a musical starring Howard Keel , Ann Blyth ,Dolores Gray  and Vic Damone . Howard Keel was a wonderful musical theatre star who accomplished a feat that had never been done before on Broadway by performing the leads in both 'Oklahoma' and 'Carousel' on the same day.    These four were big movie stars and singers of their era. Both Dolores Gray and Ann Blyth were American pin up of the 1950's as well as accomplished singers and actresses. Ann Blyths career started at the age of 5 on children's radio shows in New York.  Vic Damone had an No 1 hit record in England with 'On the street where you live'.  In the movie of Kismet he sings a duet with Ann Blyth of the beautiful  song Stranger in Paradise.
Shakespeare
At the start of 1913 Shakespeare's 'Romeo and Juliet' was staged at the theatre, it starred Margaret Halstan as Juliet and Dennis Neilson-Terry as Romeo.  He was part of the famous acting 'Terry' family.  He was not only an stage and film actor but a  theatre manager and producer. According to the Manchester Guardian Newspaper's report he was a perfect Romeo.  Sadly I cannot find a picture of these two as Romeo and Juliet but below is one of Margaret Halstead with the wonderful Shakespearean actor and director Harcourt Williams as Romeo and Juliet.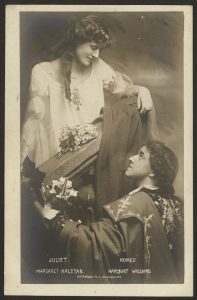 Midsummer Night's Dream was also staged in 1913 and starred both Ryder Boys and Beatrice Terry, who were both experienced and very successful Shakespearean performers.
Musicals and Ragtime
On a lighter note the musical comedy 'Sunshine Girl'.  The story-line is about a working girl who falls in love with the heir to the factory. He is in disguise and wants to be loved for himself, not his position, so he gets his friend to pose as the heir, leading to complications for both men.
The Revue 'Hello Ragtime' was another lighter musical entertainment.  This was a really great ragtime show with amazing songs such as 'Snooky Ookums', 'My Honolulu Honey Lou', 'Hitchy Koo' and so many more.
Ragtime originated in the Southern States of the America in the 1890's .Sadly by the start of 1920 Ragtime was loosing its hold. The new trends of Jazz, Blues, Charleston and the Big Band sounds were gaining in popularity.
Ragtime was the fore runner to the Jazz Age with such amazing composers and performer such as Scott Joplin, Jelly Roll Morton and Irving Berlin.
Jelly Roll Morton started his career in New Orleans at the age of 14 as a piano player in a brothel. He progressed from composing Ragtime songs to jazz and produced such great tunes as  "Black Bottom Stomp," "King Porter Stomp," "Shoe Shiner's Drag," and "Dead Man Blues."
Irving Berlin was a Jewish Immigrant who came to America at the age of 5 with his parents, he started out as a singer at the age of 13. He never had music lessons and taught himself to play the piano.  His first big hit song was 'Alexander's Ragtime Band'.  He was a genius of his day went on to gain more fame with so many wonderful songs, and one of his most famous songs was the evergreen 'White Christmas'.
Scott Joplin was known as 'The King of Ragtime'. He composed over 40 Ragtime songs,two operas and a ballet.  Two totally different types of music.   His most famous  piece of Ragtime was '"The Entertainer' which was later used in the film 'The Sting'. He died at the age of 48 whilst living in Manhattan. He was suffering from dementia caused by syphilis, it really was a sad way fro such a talented person to end his life.
One of the composers whose songs were in the show was Irving Berlin, this was at the early part of his career. One of his greatest hits from that time was 'Alexander's Ragtime Band' which became a landmark song of the Ragtime era.
On a different note another interesting fact about the show that the sketches in the show were written by J M Barrie, who had in 1904 written the wonderful story of 'Peter Pan'.
The dances and music of that era were so exciting and different and heralded the start of modern young person's life.
It's Panto time!!
'The King Of The Golden Mountain' was a Grimm Brother fairytale that was turned into a pantomime in December 1913. It ran from December to February of 1914. Pantomimes do not last that length of  time  today. It had the traditional Pantomime dame. One of the stars in the pantomime was Marion Dawson, whose career started as an opera singer but by 1912 she was a comedienne actress and finally she ended up in the Television soap opera 'Coronation St'.  If you read the story of  'The King of the Golden Mountain' you will discover that it must have been a very difficult story to convert into a pantomime as is shown by the fact that it was never really used again as a pantomime.  It was a bit weird to have this as a pantomime as it is quite a dark story as depicted in the picture below.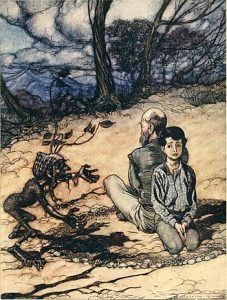 French Farce
The French farce 'Who's the Lady?' which had been translated into English starred the French actress Miss Andre Mielly who was making her debut on the English stage in this production. She played the part of  Gobette opposite George Bealby's character Cyprien Gaudet.  Below is a picture of her as she appeared with great success in this play.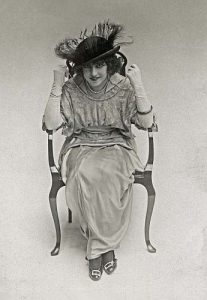 Opera
The  opera 'the Puritan's Daughter', by the Irish borne Balfe proved a favourite with the audience at the Opera House but not with audiences around the country.  He actually wrote 28 opera's so it was inevitable that some would not be very popular. It was the story of the time just after the English Civil war. The Puritans continued to conspire against the new King Charles and his friend Rochester, a rather milder character than the historical one.  This character provides an element of comic relief. The romantic interest inevitably occurs between two leading characters from the opposing sides. A bit like Romeo and Juliet and West Side Story.
It starred Charles Manners, the bass singer, who was a frequent member of  both The Carl Rosa Opera Company and The D'Oyly Carte Opera Company as well as his own Moody-Manners Opera Company for which he was in partnership with his wife, the soprano opera singer Fanny Moody.  He was quoted in The Guardian as being 'a very talented and gifted singer. The tenor Harry Brindle was another famous singer in this opera.
Below is Jessye Norman singing from one of Balfe's more famous and successful musicals 'The Bohemian Girl'
Balfe was born in Dublin but was so well known in England that there is a memorial to him in Westminster Abbey.  The wording on the memorial states that  he was a  Knight of the Legion of Honour of France plus a Commander of the Order of Charles III of Spain.  There isn't any explanation as to what he did to merit these awards.