Fun at the Palace Theatre, Manchester 1946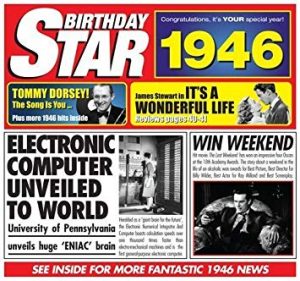 1946
England wanted to be entertained and be a happy place to live in again after the war. The popular quiz show Have A Go! with Wilfred Pickles was first broadcast on BBC Radio, it ran for 21 years. The BBC Light Programme transmitted the first episode of the radio programme Woman's Hour , which is still running 70 years later.  Some of you may remember sitting by the radio listening to the daily adventures of Dick Barton, Special Agent which also started in 1946. The first Pontins Holiday Camp was opened by Fred Pontin at Burnham-on-Sea, Somerset.  Another interesting event that year was the first Cannes Film Festival, some of the films shown there were 'Brief Encounter', 'the Lost Weekend', 'Anna and the King of Siam' and 'Rhapsody in Blue'.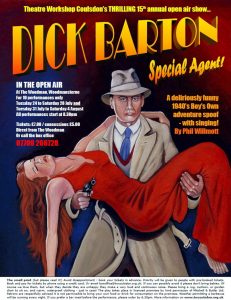 This was also the year that Television licenses were introduced; both the Coal Mines and the Bank of England were nationalised. Finally on a good note family allowance was introduced to help the 'baby boomer' families who celebrated the end of the war with their new arrivals.
Hot Ice Show
The First 'Hot Ice Show' was staged at the Palace Theatre by courtesy of Tom Arnold the impresario. It starred over 40 international skaters.  It really was a big gamble for him to take.  This was the first touring Ice show, although there had been an Ice show running in Blackpool at the Pleasure Beach since 1936. Tom Arnold was a Yorkshire man, I think he must have got the idea from his many visits to Blackpool, the popular holiday destination of the 1920's, 1930's and 1940's. It must have quite a feat in those days to make an ice rink on stage. Amongst the Ice Skating stars who were in the show was  Valerie Moon, who went on to play Prince Charming in Cinderella on Ice in 1949.  Armand Perren  was another top ice skater who choreographed the whole show.  Sadly there isn't any movie of the 1946 Hot Ice Show but I'm sure you will enjoy this Hot Ice Show clip from Blackpool.
Gang Show
As a child I always wanted to go and see a Ralph Reader's Gang Show. It was a really good way of showing some of the best of being a boy scout. I expect many of you reading this will have been in the Cubs, Brownies, Girl Guides and Boy Scouts and it it will bring many nostalgic memories for you. Ralph Reader was the originator of the gang show which is still going today but on a much smaller scale. He was an actor, a dancer as well as a composer and theatrical producer. His First Scouts Gang Show was in 1932, it was called 'The Gang's All Here'. It featured 150 Boy Scouts largely from London's East End, performing sketches, songs and dance numbers. It was so well received that it progressed nationally.  He also organised RAF Gang Shows to help keep morale up during the war. Some of the men who took part would later become well known entertainers, such as Peter Sellers,Tony Hancock, Dick Emery and Cardew Robinson. He was awarded an MBE (Military Division) in 1943 for his services to the Royal Air Force. On this particular Gang Show in 1946 at the Palace Theatre, he was joined by Dick Emery and Reg Dixon. Originally I thought that Reg Dixon was the man who played the organ at Blackpool Tower Ballroom, I then discovered it was the comedian, who's famous catch phrase was  "I'm not well, I'm proper poorly,"
Dick Emery was a great comedian and actor, whose TV shows had everyone laughing . His antics in all the characters he portrayed were great, sadly he just disappeared from TV land into obscurity, perhaps his humour had out lived its time.
Variety Show  
There were two variety shows with a vast array of amazing stars. The laughter must have been infectious and people must have left the theatre with a really feel good factor.
One of the variety show had these stars in the cast,  Richard Murdoch, Sam Costa, Freddie Frinton  and Maureen Riscoe. Richard Murdoch worked as part of a double act with Arthur Askey in 1938 where he acquiring the nickname "Stinker" .He was also famous for the radio comedy series Much Binding in the Marsh in which he starred with Kenneth Horne and Sam Costa. It ran from 1944 to 1954.
Sam Costa will be remembered as a singer and pianist with the British Big bands as well as being manly an actor. A little known fact about him is that he was a DJ on Radio Luxembourg, which I'm sure some of you will remember listening to.
Freddie Frinton in the 1940's was a comedian who later went on to gain more success as an character actor.  He often played drunks despite being tee total.  He grew up in Grimsby and there is a Blue plaque for him in Cleethorps Pier Gardens. He gained Television fame in 1963 with the comedic sketch entitled Dinner for One, which became a regular Christmas favourite, he also starred with Thora Hird in a long running television series called 'Meet the wife'
Another variety show at the PalaceTheatre in 1946 starred Richard Hearne, our beloved 'Mr Pastry'. Comedian 'Monsieur Eddie Gray' and  Arthur Riscoe, a singer and character actor of stage and screen,
Monsieur Eddy Grey was known for his trademark pair of metal-rimmed glasses and a looped moustache below a large nose that grew increasingly red over the years. His career spanned over 50 years.  He started out as a Juggler at the age of 9, but drifted very successfully into comedy. He was another comedian who could never retired. He made his last stage appearance in September 1969, when he made a guest appearance in Elsie and Doris Waters' show. Sadly he died three days later.
Those of you who are of a certain age will remember the wonderful and crazy antics of the bumbling 'Mr Pastry' the character he was famous as. The bowler hat, the white walrus moustache, the flapping coat tails and glasses, that walk, he was a glorious eccentric. Did you know he was offered the part of Dr Who but they retracted it when he said he wanted to play it as Mr Pastry!  He made his debut on the stage aged 6 weeks old with his mother who was an actress at the Norwich Theatre Royal where there is a blue plaque to commemorate him. He was an acrobat, actor and dancer who became a favourite children's television comedian in the early 1950's.  He was President of the Lord's Taverners charity.  He got an O.B.E. in 1970 for his charitable work which he did in an unassuming manor.
Arthur Riscoe appeared in many films as well as being a stage star.  Here is a clip of him singing with Magda Schneider in the film 'Going Gay' which was filmed in 1933.
Peter Wyngarde
The British National tour of 'Pick up Girl' by Elsa Shelley was also staged at The Palace Theatre. It starred a very young Peter Wyngarde. His real claim to fame was when he played the television character Jason King.  A little known fact about him was that during World War Two, he was a 15 year old boy living in Shanghai when the Japanese Army gained control. In the April of 1943 he was interned in the Lunghua civilian internment camp.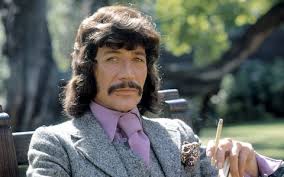 Puss in Boots the Pantomime
The Pantomime in December 1946 was 'Puss In Boots'. It was written and directed by Robert Nesbitt. It was a Tom Arnold and Julian Wylie Production, which guaranteed its success. It starred Jimmie Wheeler, Leo Franklyn,  Jean Adrienne, Ernie Wilson, Jerry Verno, Jimmy Godden, Hazel Bray and Zena Dell
Jimmy Wheeler and Ernie Wilson played the Miller's two silly sons, Jerry Verno was Simple Simon, Leo Franklyn played the Wicked Queen, Jimmy Godden played the King.  The principal boy was played by Jean Adrienne, the Princess was played by Hazel Bray and Zena Dell played 'Puss In Boots'.
Jimmy Wheeler was a well known violin playing comedian whose catch phrase was 'Aye Aye That's Your Lot'. Jerry Verno , Jimmy Golden and Leo Franklyn were all famous stage and screen character actor, so suitable for the their dramatic parts in the pantomime. The beautiful singing of the Principal boy, Indian born Jean Adrienne and Hazel Bray as the Princess were so impressive. Hazel Bray later went on to become a Cabaret singer.  In the Guardian Newspaper's write up of the Pantomime it says that Zena Bell played a vivacious Puss in Boots, sadly I cant find anything more out about her.