Manchester's first music festival and ball 1828 at the Theatre Royal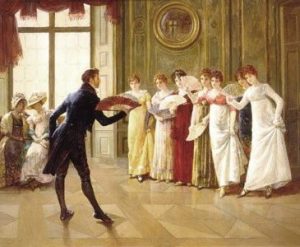 The origins of the music festival and grand fancy dress ball
In  October 1828 Manchester rose to prominence with it's first music festival.  One of the places it was advertised in was a playbill at The Theatre Royal, Manchester. It was organised by the Chairman, Deputy-chairman, Gentlemen and Stewards of the Committee of the 'Gentleman's Concert Society' .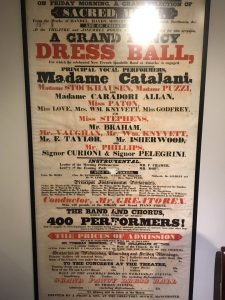 The concerts were held at both the Theatre Royal which was on Fountain St, and the Collegiate Church.  The Collegiate Church was renamed Manchester Cathedral in 1847. The music included works by Handel, Haydn, Mozart and Beethoven. The music festival was supposedly held to complement Manchester's industrial and commercial expansion.  The concerts that were held in the Collegiate Church were held there in an attempt to give respectability to their meetings and gain the support of those who wouldn't attend unless it showed some religious content and held in a more suitable environment rather than a theatre.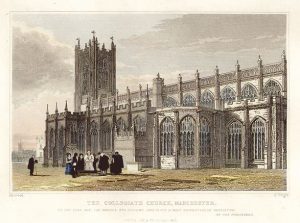 The festival ran from the 30th September to the 3rd October and culminated with a Grand Fancy Dress Ball which was held at The Assembly Rooms.
The Assembly Rooms for the Grand Fancy Dress Ball
The Manchester's Assembly Rooms were opposite the Portico Library on Mosley St . The Assembly Rooms opened in 1792, they were set up by subscription and housed many facilities including a ballroom, a tea room, a billiard room and a card room. The ballroom would be the centre point of Manchester's 1828 music festival along with the Collegiate Church and the Theatre Royal. Its finale was a fancy dress ball for almost four thousand guests. with a cover built between the Theatre Royal, the Assembly Rooms and the Portico in the form of connected a canvas tent thrown over Mosley St and part of Charlotte St, forming a series of supper rooms and saloons. Sadly the site of the Assembly rooms were sold in 1850 and warehouses were built in its place.
The Grand Fancy Dress Ball
The Grand Fancy Dress Ball was attended by 3500 people, each paying £1.05, which in today's money would be about £110 a ticket.  The money raised went to various charities. Over 300 of the people attending the ball paid the famous artist Arthur Perigal to include them in his painting titled "A Fancy Dress Ball"  The committee were very lucky to gain the services of Artur Perigal as he was only residing in Manchester for a short while as by 1830 he had moved to live in Edinburgh.
The painting was raffled and it was won by Mr Peacock, a wholesale and retail linen draper. He attended dressed as the Knave of Hearts. He gave the painting to Salford Museum in 1852 and it was restored in 1994.
The Conductor and artists
The conductor for the Festival was Mr.Thomas Greatorex. He was an English composer, astronomer and mathematician who's skill at playing the organ was said to be 'Masterly' , especially when he played at Westminster Abbey.  He was the resident conductor for 'Concerts of Ancient Music' which were also known as The King's Concerts. These were a series of concerts put on annually in London from 1776 to 1848. The concerts consisted of music composed at least twenty years earlier. The concerts had royal sponsorship and featured some of the best musicians and singers of the day. He was taken violently ill during a performance in Derby but insisted on honoring his commitment at the Manchester Festival
Italian and French Opera Stars
Italian opera was extremely fashionable in 18th and early 19th century London, audiences flocked to see foreign stars who were considered exotic with such singers as Madam Catalani who thrilled audiences and drew huge salaries
Madame Angelica Catalani was an Italian Soprano Opera star, a soprano of nearly three octaves in range. She came to England in 1806 and was an overnight sensation and soon became one of the highest-paid opera stars on the English stage as she excelled in both tragic and comic roles She died of cholera at Paris, June 12, 1849.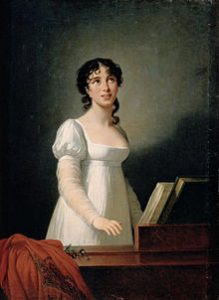 Madame Puzzi, an Italian operatic soprano, her husband  who was the horn player Giovanni Puzzi. Her career came to a premature end when, after a performance, she had to wait in pouring rain in the draughty entrance of a London theatre, and caught a severe cold which developed into rheumatic fever which was not properly diagnosed, and took many months to overcome. After this the Puzzi's became vocal professors and managers, they hosted many celebrity concerts in their Piccadilly salon at 38, Jermyn Street, which were attended by press magnates, patrons from the nobility, etc.
Madame Maria Caterina Rosalbina Caradori Allan, an Italian born, French operatic soprano who was extremely popular in her day. .In the final phase of her career, she abandoned the stage for oratorio and concert singing. She was also a regular performer at the Concerts of Antient Music,
Signor Alberico Curioni, an Italian tenor singer who was said to have borne a wonderful resemblance to Shakespeare in his figurehead and features, his voice was said to be near perfection.
Signor Felice Pellegrini, an Italian born bass singer who  mainly sang in comic roles. In 1826 he was paid £500 for a season in London, today that would be the equivalent of £34,500, despite this good salary he died in poor circumstances.
Madame Margarethe  Stockhausen, who was a French Soprano Opera Singer,and her husband (harpist), Franz Anton Adam Stockhausen. They were famous throughout Europe.
The English performers
Miss Mary Ann Paton, was born in Edinburgh a Scottish vocalist who played the harp and piano. She was famous for her beauty as well as for her vocal and acting abilities. She was famous for playing the part of Polly in John Gays 'Beggar's Opera'. 
Miss Emma Sarah Love was an English opera singer and actress. Her career ended abruptly when she abandoned her husband, Granby Hales Calcraft. She eloped in July 1829 with the Earl of Harborough, a romantic adventure that led to her final obscurity.
Mr William Knyvett was a composer and counter tenor. In 1797 at an unusually young age he was chosen as one of the Gentlemen of the Chapels Royal. In 1808 he was appointed Composer to that establishment. Not long after that he entered the choir of Westminster Abbey as a Lay Vicar.  In 1843 he was appointed conductor of the Antient Concerts taking over from Mr.Thomas Greatorex, the conductor at the 1928 Manchester Music Festival.
His wife Deborah Travis, who was originally a handloom weaver from Oldham, who became a famous solo singer.  She was celebrated in her day for her knowledge of Handel's music and her special way of delivering it They married in 1826 and were a resounding success in this Music festival.
Miss Catherine Stephens, operatic singer and actress. Her reputation was in opera but she gained more fame as a concert singer. In 1838 she married the 5th Earl of Essex, who was in his 80's who was 40 years her senior.Their is a portrait of her painted by John Jackson which hangs in the National Portrait Gallery, London.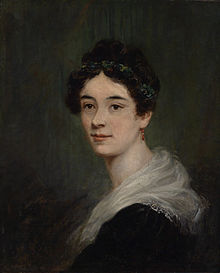 Mr John Braham,a tenor singer of the Jewish faith, he had performed in most of the theatres in England, especially Covent Garden. His wife, is thought to have been a sister of the Cantor at the Great Synagogue of London, called Myer Lyon. He never denied his Jewish origins and was a great supporter of Jewish Charities, yet being a true professional he sang in many churches and cathedrals but eventually gave up his Jewish faith. He was considered as the founder one of the leading British tenors on the concert and oratorio stage in that era.
Mr Thomas Vaughan, English tenor, born in Norfolk  He was known as a the typical faultless singer of the English school, perfected by the study of oratorio music.
Mr. Henry Phillips, was an English born man who started off as a boy soprano and a baratone but his voice was more suited to being a bass singer.  In 1825 he became principal bass at the Concerts of Antient Music .In 1843 he began a series of "table entertainments", which he continued at intervals to the end of his career. Below is a picture of him as in character as 'Count der Tiemar' in the opera ' Amilie'.