The Palace Theatre, Manchester 1944 and 1945 and Peace in the World!!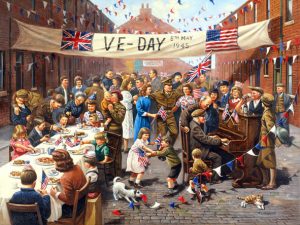 1944 saw the historic DD landings, the Americans, British, Chinese, French and Soviet representatives met to plan the foundation of the United Nations. The Japanese surrender in Burma. Rudolf Vrba and Alfréd Wetzler escaped from Auschwitz concentration camp; in the April and then prepared the Vrba–Wetzler report, one of the earliest and most detailed descriptions of the extermination of Jews in the camp. An attempt by senior German Army officers to kill Hitler failed, it was known as 'The July Bomb Plot'.  To end the year on Christmas Eve, 45 V1 bombs, commonly known as 'Doodlebugs' were launched by the Germans and were aimed at Manchester. Many of the missiles landed harmlessly; the worst was in Oldham where 27 people were killed. The end of 1944 found the British, Canadians and Americans retake all of German occupied Western Europe up to the river Rhine. Also in 1944 on the home front, the government introduced the P.A.Y.E. system of tax collection. Married women were given permission to work as teachers and the prototype prefab was built. I, like many others have very happy memories of either living in or visiting family who lived in the Prefabs in Heaton Park, Manchester.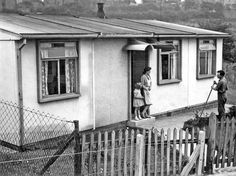 1945 saw Adolph Hitler commits suicide in April 1945 and Germany surrenders. The War in Europe ends on May 8th, and went on to be remembered at V.E. Day. On the 15th August Japan surrendered, known as V.J. day.  At last Peace in the World !!  The Labour party under the leadership of Clement Attlee gained a landslide victory and started to rebuild Great Britain. Also in this year Alexander Fleming wins the Nobel Prize in Medicine for the discovery of penicillin .  Britain receives its first shipment of bananas since the beginning of the war.  The late great Sir Matt Busby starts his illustrious and long career as manager of Manchester United.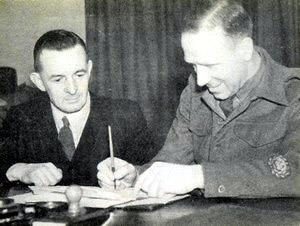 The Student Prince and the Eurovision song contest
The evergreen musical 'The Student Prince' was staged and it stared Bryan Johnson, a singer and actor, who was only just 17.  His brother Teddy Johnson and sister in law Pearl Carr went on to win the Eurovision song contest in 1959 with 'Sing little birdie'.  Following in the family tradition Bryan Johnson was the British entry in the 1960 Eurovision song contest but only came 2nd with 'Looking High, High, High'.  Despite his singing roles he was an experienced Shakespearean actor  and acted alongside Laurence Olivier, Robert Donat and Sir Donald Wolfit. In 1956 he made a cover version of Eddie Fisher's song 'Cindy, oh Cindy'. Also in the same musical was Carole Lynne, a well known actress of her day, she later went on to marry Lord Bernard Delfont, the famous impresario. Richard Tauber, the composer was their best man.   Bernard Delfont was part of an elite entertainment industry family as his brothers were Lew and Leslie Grade. The main part was played by Bruce Trent, who in his early days sang with both Jack Hylton's showband and Jack Payne's orchestra, he was an accomplished singer. After his retirement in the 1970's, he worked tirelessly for the Grand Order of Water Rats. 
Unusual Acts
An unusual act in a variety show at the Palace theatre in 1944 was 'The Ganjou Brothers and Juanita' as you will see from the movie below. They were from three Polish brothers with a British, female, classically trained dancer, Joy Marlowe who later became the wife of one of the brothers Serge. If you go to Streatham Park Cemetery in London there is a memorial on a wall dedicated to them which states that they were the 'World's Greatest Variety Act'.
Another  unusual act on a variety show that year was 'Halama and Konarski '.  In 1940 they founded the London's Anglo-Polish Ballet. They were on the same bill as 'The Cheekie Chappie' Max Miller and Jill Summers, the Lancashire comedienne.  She later appeared in Coronation St as Phyllis Pearce, the blue rinsed pensioner, forever lusting after pompous ex-serviceman Percy Sugden.  Another speciality act  on the variety show was ' Wilson, Betty and Kepple', who were famous for their sand dance.  My father, uncle and aunt used to do this act to entertain me and my cousins when we children. We loved it !!
Webster Booth and Anne Zeigler 
1945 saw Webster Booth and Anne Zeigler  starring in 'Sweet Yesterday' by Phillip Leaver.  During the show in May 1945 when Germany surrendered, Webster, was delighted to tell a Glasgow audience that a Bank Holiday had been declared for the following day.  Another musical that year was  'Rose Marie' by Otto Harbach and Oscar Hammerstein 2nd.  It's title song became a world wide hit for country singer Slim Whitman. It was No 1 in the UK hit parade in 1955 for 11 consecutive weeks.
Three Interesting Performances
George Formby with his wife Beryl who was also his manager, Arthur Worsley and Duncan's Performing Collies were all in one variety show. Duncan's Performing Collies started in the 1890's and continued doing the same routines by the same family for over 50 years. Wigan born George Formby was one the most popular acts of his day. Did you know that he struggled to read and write and his wife Beryl had to teach him his lines for films and songs parrot fashion.  It worked really well as no-one ever realised this.  Manchester born Arthur Worsley and his dummy Charlie Brown were one of the best ventriloquist acts of the 1940's and 1950's. He began his career at the age of 11.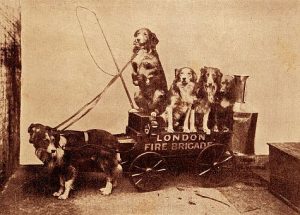 Pantomime
The Pantomine for 1945 was Humpty Dumpty.  It starred Wee Georgie Woods,possibly as Humpty Dumpty, seeing that he was only 4 ft 9 inches tall. Wood was inducted into the prestigious show business charitable fraternity, the Grand Order of Water Rats and served as "King Rat" in 1936. He was awarded the O.B.E. for services to the entertainment industry in 1946.  Barry Lupino, comedian and actor was the Pantomime dame. He was part of the famous theatrical Lupino family. He learned his craft from a very early age as his first appearance on the stage was as a baby in 1884.