The Palace Theatre, Manchester 1939 , the beginnings of World War Two

World War Two
1939 was a memorable year in British History as in September that year World War Two started when things began to change as the dark days were just around the corner! With the advent of identity cards, petrol rationing and Parliament introducing national service for all men aged between 18 and 41. William Joyce began broadcasting Nazi propaganda under the name 'Lord Ha-Ha'.  Tommy Hanley started recording the radio comedy show 'It's that man again' which became famous as its abbreviation 'ITMA'  In December of 1939 there was the famous 'Battle of the River Plate' which in 1956 was made into a top movie starring John Gregson, Anthony Quayle, Peter Finch, Bernard Lee, Andrew Cruickshank, Christopher Lee, John Le Mesurier, Anthony Newley and John Schlesinger (not as a director but as an actor). What an amazing cast who all went on to achieve top box office stardom. All these actors were incredibly talented, I would like to write in more detail about them at a later time.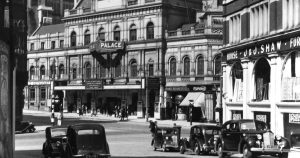 "Hello playmates!" and 'Before your very eyes'
Despite the doom and gloom The Palace Theatre, Manchester still carried on with its vast array of talent on its stage.
Amongst them was Arthur Askey, the famous Liverpool comedian who had too many catch phrases to write about. Despite him only being  5'2″ tall, he enthralled his audiences.   He didn't hit the spotlight until 1938 when he appeared on the Radio programme 'Bandwagon' . My favourite song by Arthur Askey was the 'Bee Song'. As a little girl I remember seeing In his later life in the 1950's he was credited with discovering the blonde bombshell 'Sabrina'
.Dickie Murdock who was on the same bill at the Palace Theatre at that time worked with Arthur Askey on 'Bandwagon'. In 1944 he teamed up with Kenneth Horne to gain recognition on the BBC radio programme 'Much Binding in the Marsh'.
Unusual Stage Acts
Another act on that show was Danny Lipton and his Liptonettes, which consisted of himself  accompanied by female dancers doing a rapid tap dance routine.  Another show saw Frank Marx and Iris, an acrobatic act who balanced a table on his head, sadly the only movie I could find of them was in Bulgarian, sadly I've decided to give that one a miss.
'Two Ton Tessie'
Another great name from that era who appeared at the Palace Theatre in 1939 was 'Two Ton Tessie' O'Shea, this Welsh lady from Cardiff who was so full of fun and energy despite her weight.  She not only sang and played the bango, but appeared in several films. During one her shows, she made her entrance on top of an elephant. During one of these performances, the elephant, which was pregnant and quite moody at the time, threw her off. She was off work for over three months due to this accident.
Glamour Girl
Joan Littlewood, was an unknown actress in 1939 who went on to have an amazing career as a theatre director appeared in the comedy play 'the Women' written by Clare Voothe which was written in 1936. Joan had a special connection with Manchester as she moved from London to live in Manchester in 1934 where she met and later married the fold singer cum playwright Ewen MacColl.   He wrote the iconic folk song  'Dirty Old Town' which was about his home town of Salford. The cast of the play were all women and the play was about the lives of the wealthy socialite women of Manhattan.  Perhaps it was the fore runner of programmes like 'Cheshire Housewives' or 'the Real Housewives of Beverley Hills'. If you go to Stratford-on-Avon you can see  international award winning Scottish sculptor Philip Jackson's sculpture of her at Theatre Royal, Stratford.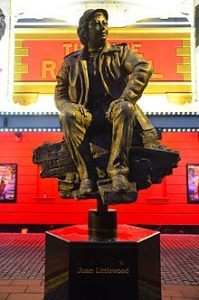 In 1936 it premiered on Broadway with Doris Day who had a very minor role.  This was eventually turned into a movie in 1939, the leading roles starred Joan Crawford and Norma Shearer plus in the supporting roles were these famous stars namely Rosalind Russell, Paulette Goddard, Joan Fontaine, who was the sister of actress Olivia De Havilland and Mary Boland.  What an amazing array of stars in one film.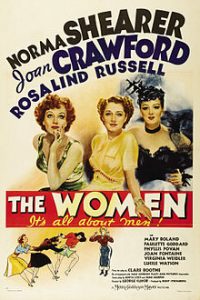 Finally in 1939 Jessie Matthews appeared with Sonni Hale in the musical 'Come Out To Play!'.  it was an entertainment that hadn't a dull moment. dance, music, comedy, magnificent dresses, splendour, glamour, all in one show which charmed the audience. My memory of Jessie Matthews is her playing Mrs Dale in the BBC radio long running series 'Mrs Dale's Diary'
To end the year  there was normally a pantomime but  sadly I don't have an entry in the Manchester Libraries Archives for the panto that ended that year.