M/ch hippodrome 1910 to 1920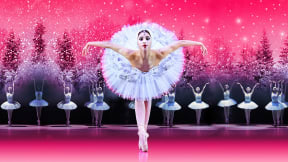 Between 1911 and 1920 the Manchester Hippodrome attracted famous stars as well as showing silent movies at most  performances in the theatre.
Ballet
Ballet was popular on the stage in this era with the Imperial Russian Ballet Company. The most celebrated Russian ballerina of her day Anna Pavlova was one of the most impressive stars to grace the Hippodrome's stage. Her most famous role was a 'the Dying Swan' in Swan Lake. Because of her fondness for this part,  at her home in  Hampstead Heath she kept pet swans.
Adeline Genee, the Danish international ballet dancer also appeared at the Hippodrome.  She began her career at the age of ten. The Annual Genée International Ballet Competition started in 1931 by Royal Academy of Dance is named after her.
'Sumurun' by Friedrich Freksa
In September 1911 the pantomime 'Sumurun' by German writer Friedrich Freksa was staged. The play was directed by Max Reinhardt who went on to become a top movie and theatre director.  He was known as the 'The man who 'invented' modern theatre direction'.  The show starred Fraulein Leopoldine Konstatin, an Austrian actress who spoke no English but later went on to have a career in the silent movies. It also stared Fraulein Von Derp, a German expressionist dancer.  In 1920 it was made into a German silent movie.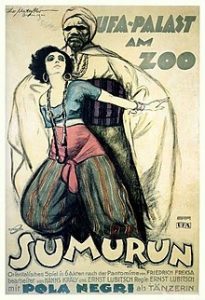 W C Fields
Another big crowd puller for the theatre in 1912 was the American comedian, actor, juggler, and writer.W C Fields who topped a variety show, this must have pleased the Manchester audiences with him being such a big star. Despite him being an American, he had English roots as his father was originally from Sheffield. It also allowed such unusual acts as  Niblo's Talking Birds and  Juliette's Comedy Sea Lions a chance to be seen by these audiences.
Female musicians
Another interesting act to top the bill in 1912 was 'The Orchestra Femina' the first all female orchestra, possibly an inspiration to Ivy Benson for her all female band many years later.  Sadly I can't find any film of them but here is a lovely one of another all female band from the 1920's
Will Hay
Will Hay, another famous British comedian, actor, author and film director was another headliner that appeared at the Hippodrome.  In his early career he worked with Fred Karno.  Beside his stage career he was a keen amateur astronomer, who had the privilege of an asteroid named in his honour.
On the same bill as Will Hey were the The Ryewodes Trio. I haven't discovered a great deal about them but their picture below is quite self explanatory.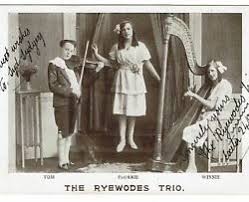 Sarah Bernardt
Sarah Bernardt and her her troupe of french actors appeared in Alexander Dumas the Younger's play 'La Dame Aux Camelias' which in later years became known as 'Camille. It doesn't say whether the play was performed in English or French. This very famous play inspired Verdi to put music to it and based the opera La Traviata on it.  Since 1915 there have been over 30 film adaptations of this play, some with the title 'Camille'.

The forerunner of Women's independence
One of J M Barrie plays 'The 12 Pound Look' starred Irene Vanburgh in the lead role.  She was the daughter in law of the famous Irish playwright Dion Boucicault. It also starred established performers Edward Sass, Minnie Terry and Humphrey Warden.  In 1920 this was turned into a silent movie. The play is the story of a woman who leaves her wealthy husband to become a typist and be independent, the price of the typewriter was £12. In 1920 this was made into a silent movie starring Milton Rosmer as the husband.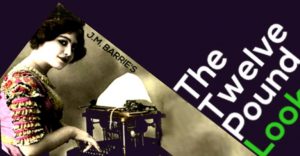 Patriotism
In 1917  'The Fringes of the Fleet' by Rudyard Kipling was performed. It was very unusual as it was written as an essay and poems about the Navy. Edward Elgar, composed the musical accompaniment and was so excited about this that he  came specially to Manchester to conduct the orchestra for the show.
Mrs Patrick Campbell
That same year Mrs Patrick Campbell appeared in the war spy play 'Pro Patria' written by her 2nd husband George Cornwallis West. He was previously married to the widow Lady Randolph Churchill who had divorced him.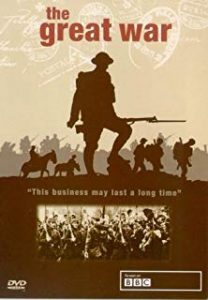 Pantomime
1919's pantomime was 'Jack and Jill' written by John Thomas Ibbotson Tiller who was a musical theatre director from Blackburn. In 1885 John was the director of the Comedy Theatre in Manchester; in 1890 he formed the first Tiller Girls dance troupe.  The Panto starred George Formby Senior and Clairette Ruane.
'Chauve-Souris
Christmas 1921 saw the interesting revue 'Chauve-Souris (Bat Theatre) from Moscow.  It was founded by Nikita Balieff, who originated in Moscow. Manchester was lucky to have them for the Christmas season.  The show was so popular that in 1922 it performed on Broadway for 6 months.
Nikita  wanted to be a comedy actor so after a short while he formed a cabaret troupe  named 'The Bat' after a bat flew up out of a basement door and landed on his hat. It proved to be so successful that they toured world wide. He fled from Russia in 1917 at the time of the Russian Revolution and ended up in Paris where the great British impresario of that era, Charles Cochran discovered him and brought his show to England.
The most famous part of the show was 'The Parade of the Wooden Soldiers' to  Leon Jessel's tune. Legend claims that the Tsar left his parade grounds without issuing a "halt" order to the marching soldiers. Without one, the soldiers then marched to Siberia before being remembered and ordered back.  This became part of The Rockettes repertoire in their New York's Radio City Christmas Spectacular.