Rudolf Valentino and Charlie Chaplin's sweetheart stars at the Manchester Hippodrome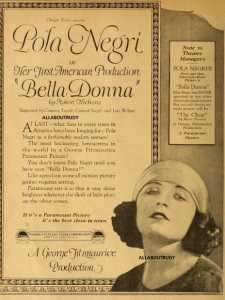 1931 saw the world famous femme fatale topping the bill at the Manchester Hippodrome on Oxford St, Manchester.  It was a real achievement for the theatre to bring this icon to Manchester.  People swarmed in droves to the theatre to see what Pola Negri,the woman who stole the heart of their screen idol Rudolf Valentino. looked like.
Pola Negri ,
Pola Negri was a Polish theatre star as well as a film actress and singer. She achieved worldwide fame during the golden silent movie era of Hollywood and Europe. she was famous not only for her beauty but for her roles as the tragic heroine plus her femme fatale roles. She was the first famous continental  actress long before Marlene Detrich and Greta Garbo.  She appeared in multiple films for the German UFA film company, from there she was discovered by the Paramount film company in America where her film and singing career took off.  Her dancing talent began when she attended Ballet School in Warsaw. In 1908  she made her début in Swan Lake.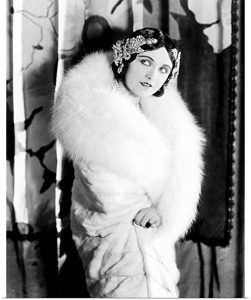 Not only did she appeal to the vast majority of cinema goers but also she won the hearts of many men. When Charlie Chaplin returned from a journey to Europe, he named her as one thing that fascinated him in the Old Continent. However despite her having had a love affair with Charlie Chaplin she chose to be with Rudolf Valentino who becomes the love of her life.
Despite his premature death due to peritonitis she demonstrated great sorrow for her loss, in a dramatic gesture, throwing herself weeping and fainting on top of her lover's casket, this performance was over-the-top, even for a diva like Pola. This was straight out of a Hollywood Blockbuster movie. Draped in flowing black veils, accompanied by a secretary and press agent, she told reporters that she and Valentino were secretly engaged to be married. Her performance caused a riot.
Her mourning for Valentino did not last long as just a few months later, she married a fake prince named M'Divani who stole all her money and she ended up broke.  This was the reason why she was touring England in the 1930's.  Her last film appearance was in 1964 in Walt Disney's 'The Moon-Spinners'.
"Here comes the bride'
In 1931 the musical "Here Comes The Bride' was staged. It was adapted by Otto Harbach, music was by Arthur Schwartz, both of these were Americans whilst the lyrics were written by Desmond Carter, an English lyricist, who also collaborated on songs with George and Ira Gershwin and Ivor Novello.  .  This touring version of the show starred Henry Lytton junior , son of Sir Henry Lytton, the famous actor and opera singer.  and George Carney,who was a stage and film star.  Otto Harbach was a lyricist who collaborated on over 50 musicals including 'Rose Marie', 'The Desert Song' and 'No,No Nanette'. His most memorable song must be the evergreen  'Smoke gets in your eyes' which leapt to the  top of the hit parade when the Platters performed it. Sadly this musical did not have great lasting success.
Festival Opera Week
Festival opera week  was staged in 1931 with the following operas, Rigoletto, the Gypsy Princess, Madame Butterfly and Carmen. This Festival of Opera was put on by Thomas C Fairbairn, a theatrical impresario, whose love of opera was the  inspiration for this festival. He is mostly remembered for his production of the English composer Samuel Coleridge-Taylor's 'Hiawatha'  some of the opera singers who took part in this Festival week were Hubert Dunkerley, Horace Stevens, Frederic Collier, Lorraine La Fosse and Irene Dobbyn.
All on the same variety show
These four very well known acts all starred on the same variety show in 1931 alongside 'Olsen's Sea Lions'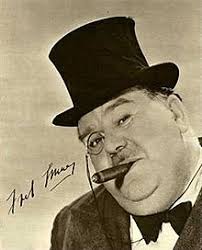 Fred Emery
Fred Emney was a Lancashire born character actor and comedian whose middle name was 'Round' which infact was quite appropriate to his build as he was quite rotund. He starred in over 30 film between 1931 and 1977 including 'The Italian Job' and the musical 'Oliver'.  He had a short spell as a straight man to puppets Pinky and Perky. His father was also known as Fred Emney who was an English comedian, appearing in farces, comic opera's, musical comedy, music hall and pantomime.
Talbot O'Farrell –
Talbot O'Farrell was an English music hall singer whose repertoire included "Dear Little Irish Mother", "When Irish Eyes Are Smiling" and "Your Dear Old Dad Was Irish'. Before taking to the stage he was a policeman in Hull .  In 1930, he had the honour of serving as King Rat of the Grand Order of Water Rats
Clarkson Rose
Clarkson Rose was a British music hall, pantomime actor and  a comedian, he was born in 1890 and died in 1968. He often performed or recorded in duo with his wife Olive Fox, sometimes under the name "Fox and Rose". He was the principal comedian in an end of the pier concert party, going on to produce his own long running show "Twinkle".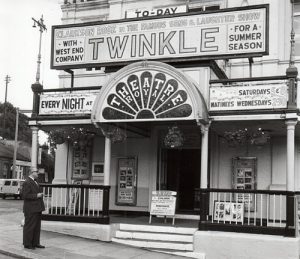 Twinkle was very much the story of seaside entertainment at that time. He loved pantomime and always claimed his favourite role was 'Widow Twankey', in "Aladdin".
He and his wife Olive settled in Eastbourne, where Clarkson's doctor was the infamous John Bodkin Adams, alleged to have 'eased the passing' of 140 of his elderly female patients, a bit like the notorious Dr Harold Shipman.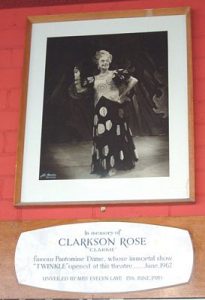 Reginald Gardiner
Reginald Gardiner was an English actor who did monologues and amusing train and car noises.  Shortly after appearing at the Hippodrome in Manchester he went on to have an interesting film career. One of his most famous roles was that of Schultz in Charlie Chaplin's The Great Dictator. Another one of his most memorable roles was with Laurel and Hardy in the film The Flying Deuces.  He was a very prolific actor who starred in over 100 films in both England and America.